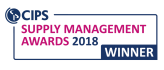 Chartered Institute of Procurement and Supply (CIPS) Supply Management Awards
2019 - Finalists in the Public Procurement and Ethical Procurement categories for projects to improve health outcomes through the West Midlands 'Thrive into Work' programme and provide integrated out of hospital community services for patients in Nottingham.
2018 - Winner of the International Procurement Project category for a highly complex procurement programme, run in partnership with and on behalf of NHS England Specialised Commissioning, to increase access to Proton Beam Therapy treatment for NHS cancer patients.
2017 - Winner of the Best Public Procurement Project category for our initiative to improve community services across Nottinghamshire, working with six Nottinghamshire CCGs, Nottinghamshire County Council, Nottinghamshire Healthcare NHS Foundation Trust and Nottinghamshire Hospice.