NHS Arden & GEM CSU's IT Service Desk was named 'Service Desk of the Year (Large)' at the Service Desk Institute (SDI) Awards 2023.
Taking place on Monday 30 October, the SDI Awards was the biggest celebration of the year for service desk and support teams, recognising and celebrating outstanding achievements across the industry and across the world. Arden & GEM won the Service Desk of the Year award in the large enterprise category.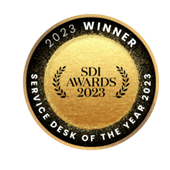 With over 100 staff members successfully supporting over 45,000 users, the Arden & GEM IT Service Desk provides an exceptional service to NHS customers which enables the efficient day-to-day delivery of healthcare. The awards success came at the end of a two-stage process which involved a detailed entry submission and judging panel focused on strategy, customer experience, staff engagement, continual service improvement, performance and innovation.
Arden & GEM's Executive Director of IT, Paul Davison, said: "I am absolutely delighted to see the skills, knowledge and achievements of our service desk team recognised in this way. Our customer-centric approach is what drives our commitment to innovation, collaboration and improved ways of working, and this year has been no different. We have built upon a period of substantial change in response to COVID-19 to develop a service that prioritises customer experience with staff who are empowered to make suggestions and take decisions which improve outcomes. This approach also saw us successfully achieve 3* certification from SDI earlier in the year."
During the awards assessment process, the service desk was able to showcase the recent initiatives introduced to better understand customer needs, including:
Surveys, interviews and after event feedback
An accountable Associate Director for customer experience
Capturing account management team insights
KPI data and metrics
Implementing Customer Advisory Boards
A staff ideas forum.
As a result, customers now have a more seamless, multichannel experience which minimises downtime, makes best use of automation and harnesses new technologies.
In addition to the Service Desk of the Year achievement, a dedicated and passionate member of the team, Guy Barrett, was also one of four finalists in the 'Service Desk Analyst of the Year' category.
The full list of winners can be found here.
Find out more about our award-winning IT services here.