Arden & GEM's IT service has been highly commended at the Cyber Associates Network (CAN) Awards 2023 for innovation in cyber.
The annual CAN Awards highlight and celebrate innovation and digital expertise within cyber security that helps protect patient care and data across the NHS. The winning and highly commended entries were announced at a virtual awards ceremony on Thursday 8 June 2023.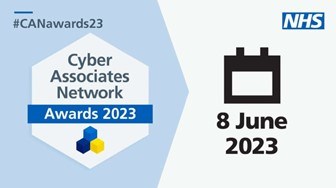 Arden & GEM was highly commended in the 'Innovation in Cyber' category for a project which used in-house expertise to design and implement a Robotic Process Automation (RPA) solution to improve password security.
As the NHS increasingly relies on digital systems and technology to deliver services to patients, weak passwords present a cyber risk which can compromise data and system security and potentially disrupt patient care. However, the manual monthly task of compiling lists of users with weak passwords, across five domains, and then contacting those users individually was proving time and resource intensive for Arden & GEM's IT service.
Using RPA to identify weak passwords and prompting users to update these, based on an agreed set of rules, has resulted in a quicker, more efficient and more accurate process which provides greater transparency and reassurance.
Commenting on the achievement, Arden & GEM's Head of Cyber Security, Tej Gudka, said: "I am delighted that the potential use of RPA to innovate in cyber has been recognised in this category. Knowing that there is an automated weak passwords notification process in place has given us the reassurance we need to focus time previously spent on managing the manual process on more value added tasks. Our 50,000 users are covered by this process which in turn increases our entire system security."
The full list of winners is available here.
You can find out more about the shortlisted project here.