We recognise the importance of delivering and demonstrating social value.
In its simplest terms, social value is the impact that an organisation has on the planet, economy and society. At Arden & GEM, our definition of social value focuses on:
Increasing the benefits that our employees and customers receive from a social, economic and environmental perspective
Being a growth enabler with a focus on reducing health inequalities
Growing capabilities within our customers across our organisation to deliver improved social value.
Our Social Value Specialist, Becky Jones explains more in this video:
As part of our journey to achieving the Social Value Quality Mark Level 1, we have set out pledges in six areas to demonstrate our ongoing commitment to social value:
You can read more about our key value indicators for each pledge area in this document.
You can also here our delivery leads and teams sharing some of our achievements to date on our dedicated social value YouTube playlist.
Our roadmap for delivery
To continue strengthening our commitments to delivering and embedding social value, we are following a roadmap which includes applying for the Social Value Quality Mark Level 2 in early 2024.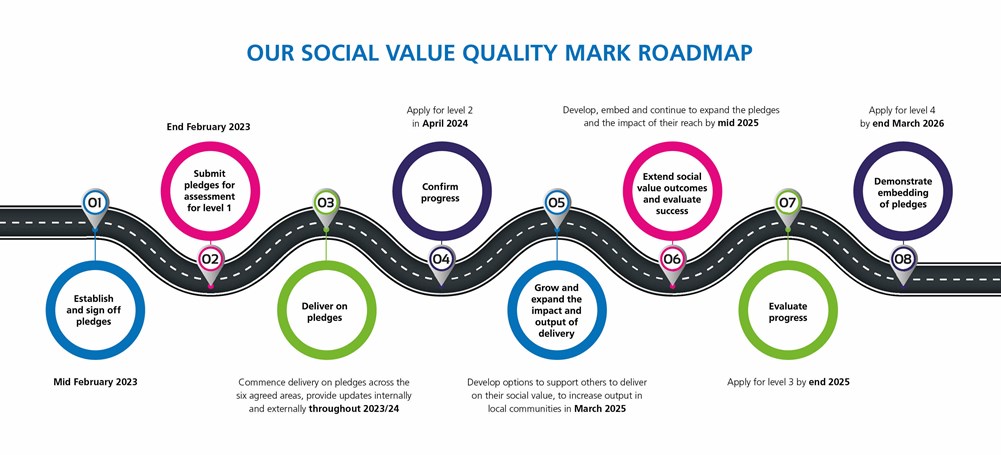 The Social Value Network
As part of our commitment to achieving a fairer, better, greener health and care system through pioneering the aims and principles of social value, we have established the Social Value Network – a collaborative, joined-up approach to delivering social value across the public sector.
The Social Value Network enables organisations working in or with the public sector to gain the knowledge and tools needed to meet their statutory and ethical responsibilities. Members are supported to determine what social value means to them and how they can achieve their vision, with bespoke implementation programmes also available.
Find out more about the Social Value Network here.