We are committed to providing solutions for all of our client's needs, which is why we combine our multidisciplinary approach with partnering some of the brightest industry specialists in their field.
Our material partners bring global expertise and new perspectives, while our delivery partners (including small and medium-sized enterprises, and the voluntary and community sector) bring niche skills and deep domain knowledge.
Our unique partnership with the Satellite Applications Catapult, an independent innovation and technology company created by Innovate UK, seeks to utilise space infrastructure and relevant satellite applications in the delivery of digitally-enabled care. Existing initiatives have used satellite technology in the management of long term conditions, including Chronic Obstructive Pulmonary Disease (COPD) and diabetes, as well as improving connectivity for patients (via capsule endoscopy technology) and ambulance services in rural areas. Find out more here.
As well as partnering organisations from outside the NHS, we also work with NHS organisations. In particular, Solutions for Public Health, who are a service line within Arden & GEM who operate with unique branding.
As part of the Health Systems Support Framework we have an established network of partners: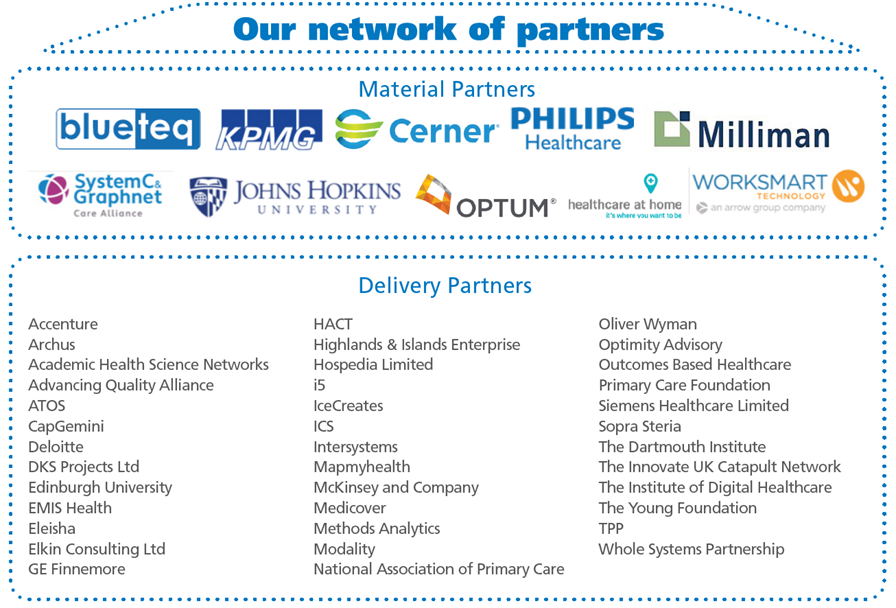 We are continually adding to this dynamic network to meet the evolving needs of the health and care landscape.