Population Health Management (PHM) has the potential to drive a fundamental shift from reactive to proactive health and social care for our communities, giving ICSs the tools,
information and understanding needed to improve the health and wellbeing of their population.
However, embedding PHM within health and care systems can be challenging, with integrated infrastructures, data sharing and analytical capability needed to enable this shift to take place.
We are experienced in working with systems to establish the culture and mindset required for meaningful change. We can deliver an end-to-end PHM support offer or tailor specific elements to your existing priorities and stage of the PHM journey.
Our holistic PHM support is provided in six key areas:
Population definition - proven approaches to grouping and segmenting populations to develop a better understanding of healthcare needs
Outcomes measures - support in identifying the outcomes required and developing a framework for measurement
Data availability - using population health data to its best effect by linking and curating data in an accessible and user-friendly manner
Outcome driven financial mechanisms - enabling the transformation of care delivery via funding and contractual mechanisms that ensure risk and rewards are fairly distributed
System-wide culture - enabling systems to understand their current culture, identify and navigate barriers to effective PHM implementation (including the creation of value-based approaches and stewardship)
New models of care - multidisciplinary teams that support the entire transformational journey: opportunity development, system alignment, target operating models, implementation and evaluation.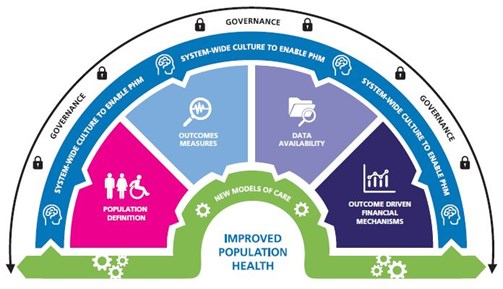 Our key strengths and expertise:
We have an excellent track record in developing and supporting PHM approaches for systems, places and neighbourhoods, underpinned by optimal data management, bespoke insight tools and expertise in designing evidence-based models of care.
Our highly skilled data and analytics workforce comprises experience in data management, data science, data engineering, information governance, information and analysis, advanced analytics, health economics and public health which can be quickly mobilised to supports ICSs on their PHM journey.
As a national processor of data for commissioning, we have access to a wealth of health and care data which is curated and linked with local datasets within a secure data management environment. By combining our unrivalled access to data with cutting edge analytical developments – including in-house developed portals, dashboards and models – we deliver actionable insight that supports effective strategic, operational and clinical decision-making.