Effective internal communication is key to the successful running of any organisation. But the move to greater integrated working across health and care, and its focus on collaborative behaviours, has made sharing information and knowledge in a timely manner more crucial than ever for NHS organisations, particularly when coupled with the continuation of remote working.
Arden & GEM's intuitive intranet solution enables NHS organisations – including ICBs, PCNs and GP practices – to keep staff informed and engaged. As experts in digital workspace deployments, that utilise cutting-edge technology, we deliver intranets tailored to individual needs and objectives.
Our intranet solution
Arden & GEM offers an off-the-shelf intranet solution that can be customised to suit your needs. We will deliver an intranet capable of disseminating information across your entire organisation through an engaging, central communication tool that provides a single version of the truth. Our solution offers three levels of service to meet your individual requirements and budget: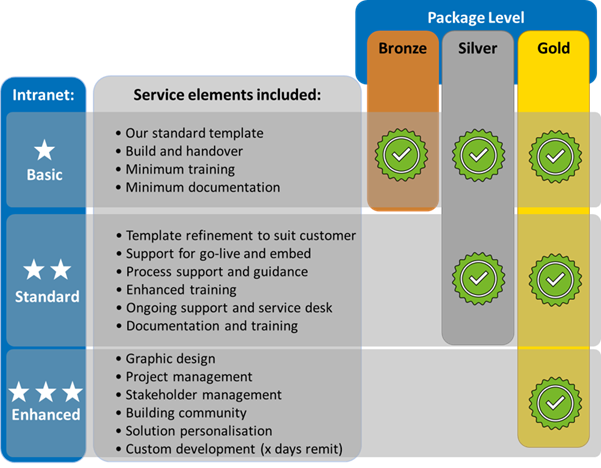 Our efficient and time-effective solution can deliver a working concept to you in just two weeks and you could have a live, fully functioning intranet within a month.
The benefits
Single location to store and share information and files across a wide estate
Cloud based solution so no need for VPN or any additional software or expense
Easy, user friendly way for staff to find and consume information
Effective and speedy communication of important information across your workforce
Single repository to update forms for your entire organisation (polices, HR, payroll)
Integration with other Office 365 services such as Viva Insight
Document review feature to ensure content is up to date and relevant
Tagging methodology to ensure information can be surfaced quickly
Can be used as a directory for team sites and hub sites.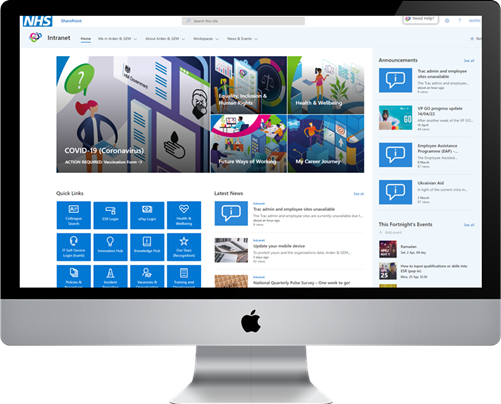 Why Arden & GEM
Arden & GEM's IT team supports over 25,000 users and has a vast amount of experience in creating user centric intranets that allow information to flow effectively.
Our intranet solution is a 'Content Push System' which allows organisations to have a centralised repository for information. We utilise expertly configured SharePoint functionality to provide a robust platform that is regularly updated directly by Microsoft. Our solution also offers the potential for integration with Office 365 and the intranet can be configured in your own tenancy or on the NHS Mail Shared Tenant.
Our design team combines knowledge management ideology with SharePoint to ensure a user experience in which information is accessible, easily navigated and aesthetically pleasing.