We deliver high quality finance services to our customers which are tailored to individual requirements and underpinned with collaborative working, best practice, governance and quality standards.
Our flexible finance solutions are tailored to meet your individual needs. From day to day processing and statutory reporting to financial modelling, performance measurement and project accounting, we are always on hand to provide the value adding support you need, in a way that works for you. Working seamlessly with your in-house team, we ensure all your financial targets and duties are met. 

We bring:
A proven track record of delivering a full suite of finance services to clients:

Financial accounting, including financial control, governance, reporting and risk management.
Financial strategy, including forecasting and strategic planning.
Transactional support such as payroll processing, invoicing and debtor management.
Management accounting.
A customer-focused approach to financial management, designed to support you throughout the accounting cycle from budget setting through forecasting, reconciliation and the management of external reporting requirements.

Commitment to the highest standards of financial reporting and corporate governance, as well as operating in accordance with best practice, integrity and ethics.
Robust and highly accurate financial control processes, all of which are documented and subject to regular review.
Extensive experience of working with the Oracle system, the Integrated Single Financial Environment and the reporting and coding structures prescribed by NHS England.
A strong record of working with and managing third party relationships with providers including NHS Shared Business Services, VAT Liaison and our own Counter Fraud development team.
Accredited Safe Haven status which means we are able to validate invoices that require the handling of patient data.
A collaborative approach to working with local authorities to ensure the appropriate split of costs where joint packages of care are commissioned.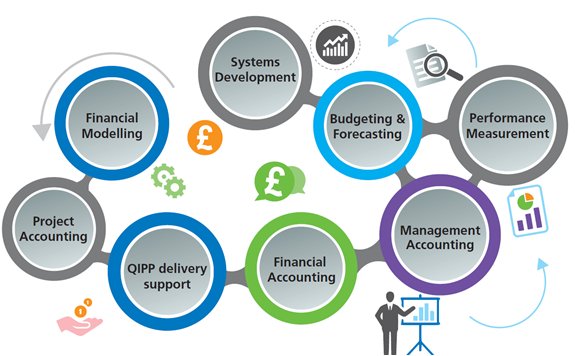 Benefits:
Our team has a wealth of expertise and wide-ranging experience gained from careers within the NHS, private and other public sector organisations (including audit).
In addition, our size and experience has allowed us to develop a high degree of subject matter expertise, alongside formal Continuous Professional Development and qualifications, all of which ensure we provide you with an ideal mix of up to date skills and best practice understanding.
Our team is particularly skilled at navigating the complexities of funding for Continuing Healthcare and Personal Health Budgets.
We are active participants in the Future Focussed Finance Programme and are a key member of the regional Health Finance Management Association.