To achieve the NHS Long Term Plan's ambition for every part of the country to become an integrated care system (ICS) by 2021, Sustainability and Transformation Partnerships (STPs) must accelerate the process of bringing local health and care organisations together to join up planning and service delivery.
With a proven track record in bringing together health and social care to improve the health and wellbeing of their populations, Arden & GEM has key capabilities that can support emerging and developing integrated care systems to make progress against immediate priorities.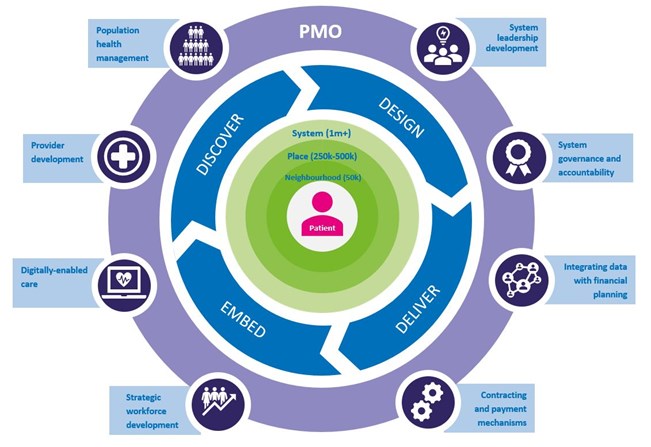 Integrated system governance and accountability
Systems often have multiple and complex governance structures in place. We help to create and co-produce effective system-wide decision making and integrated governance arrangements by:
aligning accountabilities, strategies, policies, processes and plans
establishing clinical leadership and accountability
introducing inter-organisational agreements around risk sharing.
When implementing major change, we have helped systems successfully navigate Clinical Senate and NHS England and Improvement assurance processes.
Integrated care system leadership development
Creating the right environment for collaborative and inclusive leadership is essential to developing the partnership culture needed for systemwide delivery and improvement. Our approach includes:
development sessions, coaching, workshops and facilitation to develop a shared system-wide vision and purpose
supporting leaders to collaborate and learn from each other
equipping leaders with the skills and confidence required to work in new ways.
We are experienced in providing leadership development support, including executive and board level coaching, to ICSs and supporting system alignment.
Integrating data with financial planning
Moving towards system financial balance and shared control totals requires a sound understanding of system financial drivers and efficiency opportunities, to develop clear and credible plans. We are able to support you in establishing whole system financial models through:
building approaches using cost rather than price
analysing and evaluating qualitative impacts
reflecting risk profile changes
working with local government and external providers of health, including facilitating the data integration essential for population health management.
We recently worked in the Nottinghamshire ICS to analyse cost control options and QIPP opportunities to deliver a robust cost containment framework with recommendations that achieved £3.5m in QIPP savings, along with a greater understanding of key cost drivers.
Contracting and payment mechanisms
Alongside a better understanding of new contract model arrangements and options, new incentive and payment mechanisms need to be developed to drive the adoption of new care models. We deliver joint contracting solutions that:
navigate all required legislation
establish strong contracting partnership relationships
co-design provider memorandums of understanding to support ICP development.
We are currently working with Lincolnshire STP to provide support in the above areas, with a focus on scoping mutually beneficial contracting arrangements which promote the right organisational behaviours.
Strategic workforce development
To ensure local health economies are managing human resources collectively, strategic workforce planning, development and delivery is needed at system, place and neighbourhood levels. Our support includes:
intelligent stakeholder engagement to ensure workforce plans are truly co-produced
assessment of current system workforce skill mix and development of a credible plan
mobilisation of functions and teams into new organisational forms.
We have a strong track record of workforce development and delivery including whole system workforce redesign support in Bedford, Luton and Milton Keynes, and realisable workforce planning for the Coventry and Warwickshire stroke service reconfiguration.
Provider development
In order to best meet population health needs, further integration of care is needed across primary, community, acute, mental health and social care services. We can help systems to deliver greater integration by:
• designing new models of care
• managing the formation of alliances and Integrated Care Providers (ICPs)
• supporting the development of Primary Care Networks (PCNs).
We have worked alongside Dudley CCG, managing the procurement of one of the first ICPs in England, in a 15-year contract expected to cost around £300 million per year.
Digitally-enabled care
Digitally-enabled care offers new possibilities for prevention, diagnosis, care and treatment which can improve patient outcomes, address workforce challenges and deliver cost efficiencies. Our solution focuses on two domains:
assessing digital maturity and co-producing appropriate strategies and roadmaps
developing and deploying digital healthcare solutions to transform patient care pathways.
Through our unique innovation partnership with the Satellite Applications Catapult we are advancing collaboration between the NHS and the UK space sector through a series of projects to harness satellite connectivity, monitoring and data. This work is helping to address priority healthcare challenges including endoscopy pathways, ambulance conveyancing and patient self-management.
Population health management (PHM)
Adopting a population health approach provides an opportunity to improve the health and
wellbeing of an entire population through better planning and delivery of proactive care. Our PHM solution is built on bringing together our unparalleled access to data with advanced analytical expertise including:
identifying, capturing and linking data, including information governance to provide a 'single version of the truth'
developing a better understanding of your population and their needs through segmentation and risk stratification
data driven decision making for designing effective interventions informed by desired outcomes and a range of modelling techniques.
By creating the right environment, developing the right operational models and engaging with the wider community, care systems can meet their collective goal of delivering the best possible health outcomes for their population.
Our approach to working with integrated care systems
We recognise that different systems each have their own unique starting point and are at different stages of maturation. We shape our support to each system's priorities and goals.

We use a proven and structured four-stage approach to change which can be adapted to different levels (system, place and neighbourhood) and scopes (whole programme or specific elements). This approach is typically time-limited with a focus on enhancing the existing capabilities, tools and skills of teams to sustain change.