With the NHS facing unprecedented demand for services, health commissioners and providers are under pressure to find smart solutions to some of the most pressing demands on services.
Arden & GEM has developed a risk stratification tool, based on a unique set of algorithms, to help organisations predict behaviours such as unplanned admissions, and intervene earlier to improve patient care and reduce the burden on emergency services.
Our suite of risk stratification reports utilises the tried and tested Johns Hopkins Adjusted Clinical Group (ACG) methodology. Data is combined from primary and secondary care and is processed through the ACG algorithm. Rather than focusing on specific diseases or episodes, this system encourages a holistic view of the patient, including co-morbidities that could affect commissioning and care management decisions.
Our risk stratification solution enables you to deliver against national directives as well as responding to local needs. From enhanced frailty identification and proactive care, through to better management of specific cohorts at a practice, place and system level, risk stratification provides the information and analysis required to improve population health.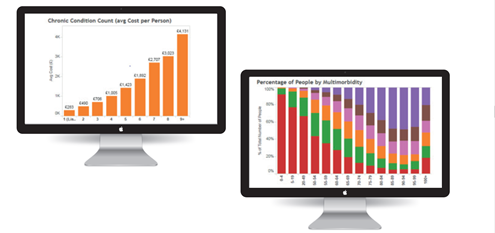 Our risk stratification services
Same tool, same data, different applications
We have built a suite of reports for Integrated Care Boards (ICBs) to inform commissioning decisions as well as a case management report for clinicians and GPs to support direct patient care.

Risk stratification for commissioning
Our risk stratification tool enables ICBs to use risk profiling to undertake population health modelling and support commissioning analysis. This suite of reports provides information about disease and risk prevalence across localities which can be used to inform planning and service redesign activities.
Three specific reports assist with risk stratification of the population:
Chronic conditions report
Multi-morbidity report
Self-service report.
All reports are case mix adjusted to deliver a fair comparison across localities and GP practices. This allows ICBs to benchmark their data against comparable areas, and explore differences to aid decision-making which improves care and reduces costs. 
Taking this strategic approach, our team works with ICBs to enable best practice to be shared across localities, delivering more consistent improvements in primary care.

Risk stratification for case management
Arden & GEM's case management module is an invaluable tool enabling GPs to identify, monitor and predict particular outcomes for patients such as:
Risk of emergency admission in the next 12 months
An indication of high cost patients in the coming year
Risk of frailty indicated by a frailty flag
Monthly accelerated risk indicator to highlight patients with growing risk.
This information is key to supporting initiatives such as the Unplanned Admissions Enhanced Service which focused on patients who are at high risk of hospital admission or re-admission.
Using primary and secondary care data on admissions, our reporting features enable GPs to build registers of high-risk patients and drill down to view individual care pathways, including secondary care activity and medication history.
Thanks to a range of intuitive dashboards, practices can identify the likely triggers of an admission and intervene to reduce the patients' risk score. Using filters such as age band, condition and frailty, cohorts of patients can be used to create bespoke lists for case management programmes. This empowers GP practices to deliver targeted care and health promotion strategies.
Another key feature of the tool is that it allows GPs to identify individual patients within the report while still meeting Information Governance guidelines.

Benefits:
Primary care healthcare professionals using Arden & GEM's risk stratification tools can gain essential insight into how they could modify care plans and pathways to improve self-care, reduce GP appointments and hospital admissions, and support patients' needs in the most cost effective way.

Commissioning
Although using risk stratification at a more strategic level is still relatively new to most localities, we are already beginning to see the impact it can deliver. One pioneering ICB, which has used the tool for over five years, is now seeing a reduction in unplanned emergency hospital admissions thanks to effective interventions established following the identification and understanding of at-risk patients
By providing this predictive profiling and service use analysis across localities, commissioners are proactively engaging with their practices to identify and deliver more opportunities to improve care and reduce costs.

Primary care
Our risk stratification tool is already widely in use by GP practices and delivers the following benefits:
Enabling GPs to identify their patients at highest risk of unplanned hospital admission
Enabling GPs to deliver better proactive care to those who need it
Providing the relevant clinical information to support care management.