NHS England directly commissions a range of health services including specialised, specialised mental health, health and justice, armed forces, secondary dental, as well as some public health.
With almost £20 billion per year currently spent on directly commissioned services, NHS England relies on accurate, timely and meaningful information to ensure service quality and value. This is particularly crucial for specialised services which account for 90% of the spend and include a range of treatments from more well-known interventions such as chemotherapy and radiotherapy through to pioneering procedures such as prenatal surgery and proton beam therapy.
From April 2023 onwards, it is anticipated that a significant portion of specialised services (65 services out of 160) will be delegated to Integrated Care Boards (ICBs) as part of a more holistic, joined up approach to local commissioning.
The NCDR Portal
The NCDR (National Commissioning Data Repository) Portal is a web-based application developed by Arden & GEM (on behalf of NHS England). Within the portal, a suite of reports has been developed to provide users with access to information regarding directly commissioned services in a user-friendly format.

Reports enable both commissioners and providers to:
Improve data quality
Adhere to information governance requirements
Gain insight to facilitate informed decision-making
Manage healthcare provider contracts
Identify QIPP opportunities
Identify unwarranted variation for further investigation
Explore clinical pathways.
The NCDR brings together different data sources including Commissioning Data Sets (CDS) submitted to Secondary Uses Service (SUS Plus), Aggregate Contract Monitoring (ACM), Patient Level Contract Monitoring (PLCM), Drugs (DrPLCM), Devices (DePLCM) and Clinical Registries. The database enables event linkage at a patient level, to enable monitoring of the entire patient pathway.
By accessing data and intelligence within the NCDR Portal, users are provided with a more comprehensive view of their landscape to underpin intelligent commissioning decisions. This allows for informed planning based on a more comprehensive understanding of the needs of their population.
The NCDR Portal is used to identify and deliver millions of pounds in savings within services directly commissioned by NHS England and is a vital tool in managing contracts against budgets. In 2021/22 NCDR Portal data supported NHS England to challenge over £500m of expenditure on drugs with providers.
Over 100 reports are available including:
Reports are developed in collaboration with partner organisations, including NECS and NHSE.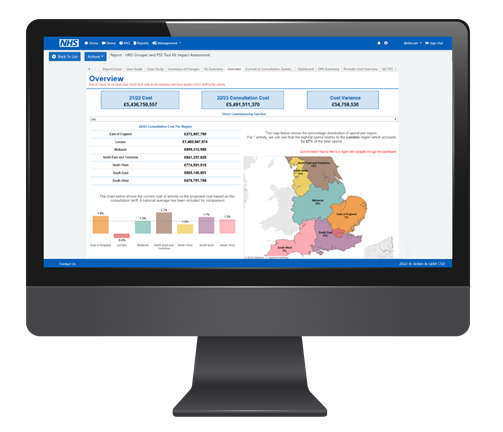 Why the NCDR?
Access directly commissioned services data and analysis to complete your overview of your commissioning landscape
Take a system-wide view for improved planning at different levels
Accurate and timely identification of unwarranted variation between providers
Financial diagnostics that highlight inefficiencies and present opportunities for savings
Tailored intelligence to highlight unwarranted variation in clinical indicators that can be used to improve patient experience and outcomes
A simple, intuitive and customisable portal
Self-service capabilities
Comprehensive training, resources and support available to ensure your organisation gains the maximum value from the portal.
The NCDR Portal provides a single source of truth, enabling commissioning managers to collaborate, track trends, benchmark performance and make informed decisions based on a more comprehensive understanding of the needs of their population. It provides an understanding of spend on patients and financial diagnostics that highlight inefficiencies and present opportunities for tangible savings.
We continually review and invest in the NCDR Portal and its reports to evolve information and insight to meet the changing needs of commissioners and providers. The input of users and partners ensures we focus on the data and intelligence required to deliver efficiency and improvements in patient care.
Register for and access the NCDR Portal here.
Demonstrations of the NCDR Portal are held every month. Dates and joining details can be found on the Demo page in the Portal.
Arden & GEM's business intelligence service provides data, information, analysis and insight to NHS England and Integrated Care Systems – underpinned by expertise and best practice – to enable the sustainable delivery of high quality services that improve population health and wellbeing. Find out more here.