Sustainability and Transformation Partnerships (STPs) seek to deliver new approaches that ensure health and care services are built around the needs of local populations. Bringing health and care organisations together creates a unique set of challenges that will have to be overcome to deliver the vision of better health, better patient care and improved NHS efficiency established in the Long Term Plan.
As a fundamental enabler for change, accurate data and intelligent analytics are critical to the success of all health systems. The National Commissioning Data Repository (NCDR) portal is a web based application developed by Arden & GEM (on behalf of NHS England). The portal empowers CCGs to collaborate for the commissioning of specialised services and enables planning to be joined up throughout STP footprints. 
The NCDR utilises a number of national data flows including Secondary Uses Service (SUS Plus), Aggregate Contract Monitoring (ACM), Patient Level Contract Monitoring (PLCM), Drugs and Device MDS information (submitted by providers) in relation to specialised service commissioned activities. By accessing this data and intelligence, Clinical Commissioning Groups (CCG) and STPs are provided with a more comprehensive view of their landscape. This allows for fully informed planning based on a more comprehensive understanding of the needs of their population.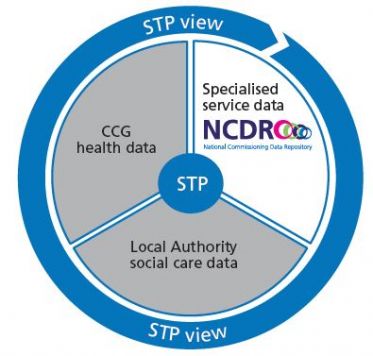 The NCDR is designed to meet all of your specialised services data needs. Whether you are looking for easy access to intelligent reporting, or to extract data for a more bespoke analysis, the portal provides an invaluable resource for your organisation. The flexible design of the NCDR enables cross data source filters across multiple datasets, for example a simultaneous analysis incorporating both cost and activity information. Intelligent functionality including the selection of 'favourites' and parameter setting for user alerts ensures an efficient delivery of the analytics you need, when you need it.
Our user forum means we are constantly updating reporting within the NCDR to meet the evolving needs of commissioners. With over 30 unique dashboards and reports developed collaboratively with NHS England, CCGs and STPs, the NCDR portal delivers impactful intelligence to support collaborative commissioning. Analytics include:
STP Spend Dashboard:
Analyse all the measures for spend, spend per population (weighted and unweighted) by STP, provider, Point Of Delivery (POD) data, programme of care and service category. View trends over time to understand the full picture.
Provider Activity & Finance Dashboard:
Analyse provider activity and spend as well as comparing different provider types. Compare activity and spend simultaneously to highlight unexplained variations. Easily identify outliers in spend and activity and drill down for more detailed analysis.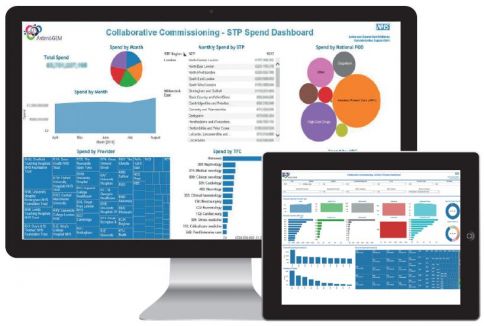 QIPP IQ: 
Identify and monitor the performance of productivity opportunities across regions, commissioning hubs and providers. Drill down into POD, programme of care or service lines to investigate problem areas and establish QIPP improvement initiatives.
STP Clusters & Associated CCGs Dashboard: 
Analyse individual providers or CCGs to establish performance against plan. View variance from plan by HRG, programme of care, service line and easily identify the top performing areas. Highlight CCG performance outliers within an STP and benchmark against their peers.
Non-Contracted Services Explorer: 
Identify the proportion of total spend that is non-contracted by region, commissioning hub and STP. Benchmark and highlight trends in both spend and activity that can be focused on to improved performance.
CCG Service Line Dashboard: 
Create transparency around the key service lines that are driving high spend within individual CCGs. Benchmark CCGs against their STP peers for individual programmes of care to highlight outliers in terms of spend and spend per population. 
Planned Performance Investigator: 
Identify the providers, service lines, PODs and HRGs that are spending most above plan. This report provides a 'top ten' list of over performance against plan on a monthly and year to date basis that can be used to address immediate problems.
Contract Monitoring: 
Identify the providers and regions that are outliers in terms of activity and spend against plan to track performance over time. Actively monitor the providers that have not submitted data on a monthly basis.
Pathway Analyser: 
Understand and analyse how typical pathway costs vary by region, STPs, commissioning hub and provider. Identify and explore variances in the pathway profile and highlight potential service improvement / transformation opportunities.
Place-Based Commissioning Explorer: 
This single page view demonstrates the key drivers of unwarranted variation by service line and programmes of care at both CCG and STP level. Understand significant under and overspend as well as the potential cost savings available if spend was in line with peers on a 'per patient' basis.
CCG Benchmarking: 
Analyse the key programmes of care for individual CCGs and compare against the STP group. Quickly establish areas of concern and identify cost effective care that can deliver best practice learning.
CCG Geographic & Summary Analysis: 
Analyse variations in CCG spend across overarching STP geographies utilising both heat maps and data. Filter by CCG or service lines whilst analysing spend and spend per head of population (weighted and unweighted).
We are constantly investing in the development of the NCDR to ensure information and insight evolves to meet the changing needs of CCGs and collaborative commissioning landscapes. The input of our user groups and partners ensures we focus on the data and intelligence required to deliver efficiency and improvements in patient care.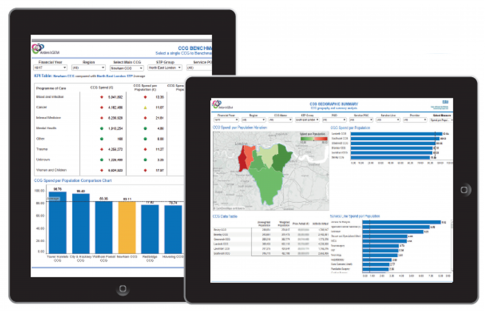 The benefits
Access to the NCDR will give you:
Access to specialised services data and analysis to complete your overview of your commissioning landscape.
The ability to take a system wide view and therefore better plan at an STP level
Accurate and timely identification of unwarranted variation between providers.
Financial diagnostics that highlight inefficiencies and present opportunities for tangible savings.
Tailored intelligence to highlight unwarranted variation in clinical indicators that can be used to improve patient experience and outcomes.
A simple and intuitive portal that provides the ability to customise and save views in order to deliver against your individual requirements.
Self-service capabilities, easy access to raw data and the ability to apply cross data source filters. 
Comprehensive training, resources and support available to ensure your organisation gains the maximum value from the portal. 

To visit the NCDR portal please click here