Statistics show that Gypsy, Roma and Traveller (GRT) communities have poorer health and lower life expectancy than any other ethnic minority. Poor neonatal and maternal health, low child immunisation levels, mental health issues, diabetes and high levels of smoking are just some of the issues more commonly seen in the GRT community.
A significant barrier to improving the health outcomes of GRT communities is exclusion from accessing services. As well as suffering discrimination within society, Gypsies, Roma and Travellers are more likely to have poor literacy skills, a lack of trust in agencies, and difficulties accessing services while travelling. Lack of knowledge and understanding among the wider population of GRT community culture and their specific needs, means that these communities continue to miss out on health solutions.
Our approach
With a substantial GRT community in Worcestershire, NHS Arden & GEM Commissioning Support Unit (CSU) worked in partnership with Worcestershire County Council and local health organisations to explore current engagement levels, with the aim of building links and improving health outcomes for this marginalised group.
Working with the GRT Education Team Leader at Worcestershire County Council, we developed a Gypsy, Roma and Traveller Health Engagement Forum. The quarterly forum brings together representatives from NHS Arden & GEM CSU, Worcestershire County Council including Public Health, Worcestershire CCGs, Worcestershire Acute Hospitals NHS Trust and Worcestershire Health and Care NHS Trust. Members of the local GRT community have been invited and the forum is designed to build a trusted link between the community and local organisations and allow people to raise any specific health related issues and concerns.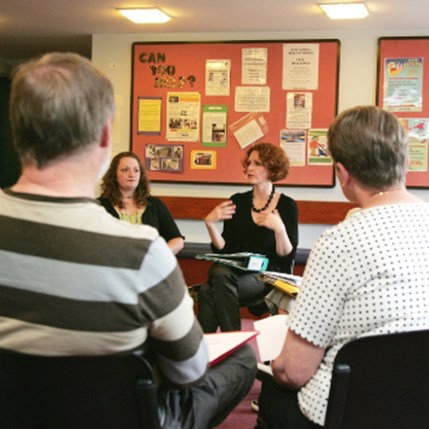 We built interest in the events by working with council colleagues who have existing relationships with local GRT communities. Recognising that traditional meeting invitations would not be effective, we spread the word through council representatives who have ongoing close links with parents and families and are a trusted source of information.
This, along with positive feedback from GRT members via County Council colleagues, means that the GRT Forum is hoped to become a popular and effective two-way engagement opportunity. The forum is intended to give GRT members more of a say in local health services and it allows health and social care organisations to gain a better understanding of the specific needs of the GRT community.
The outcomes
While it is still early days, we are already seeing the benefits of this innovative and joined up approach to tackling the health inequalities of the GRT community in the area. Trust is building and members of the community are showing interest in attending as a result.
The forum has enabled us to identify some priorities for improvement. This includes an urgent need for GRT-friendly health information leaflets to make it easier to access the services they need. Working with members of the community, Worcestershire CCGs and Worcestershire Health and Care NHS Trust have developed a suite of materials which are due to be launched at the Summer Reward Day (2014), which is hosted for the GRT community at the Countryside Centre in Worcester.
The forum has also highlighted the need to include GRT information in diversity monitoring forms. This has now been raised at a national level with NHS England, resulting in gypsy and traveller coding being included in future equalities monitoring and guidance.
Other benefits include:
Better partnership working between the agencies involved, including a joint approach plan between Worcestershire Health and Care NHS Trust and Worcestershire County Council
The GRT Education Team Leader is now delivering GRT awareness training to health professionals across Worcestershire
The forum has also facilitated pre-consultation engagement regarding the reconfiguration of acute services in the area.