Personal Health Budgets (PHBs) are a key deliverable in the NHS Long Term Plan, requiring a major expansion in the offer and delivery of PHBs where the evidence indicates people would benefit.
The Long Term Plan aims to accelerate the roll out of PHBs, with up to 200,000 people benefiting from a PHB by 2023/24 - including the provision of bespoke wheelchairs and domiciliary care.
We deliver a flexible PHB service designed to meet your exact requirements, from full end-to-end support to modular provision which dovetails with your existing in-house resource, importantly we have the experience, processes and capacity to enable the effective delivery of PHBs for your local population.
We bring:
PHB Consultancy Services
Our consultancy service provides expert guidance and practical assistance that ensures your PHB service meets national requirements, is responsive to the individual and the population; and is cost effective.
We will support your QIPP programme ensuring maximum benefit to your patients whilst providing value for money.
Our four stage model spans strategy, operational delivery, facilitation and implementation.
Our experienced team will conduct a full review of your current PHB systems and processes against national requirements.
Working in partnership with Imosphere we deliver a personalised care pathway and patient centred approach to PHBs, combining a market leading cloud-based solution with our suite of ratified toolkits and templates.
Our approach enables clients to track individual and population outcomes and measure performance and improvement.
Additional Services
We also provide bespoke packages of support and services for all your individual needs.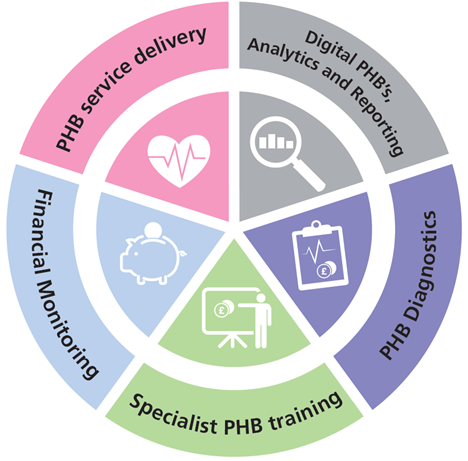 Digital PHBs, Analytics and Reporting


We provide a digital solution for the delivery of PHB's by providing pre-set assessment tools for data extraction and historical and predictive analysis to make informed decisions around funding and resource allocation.



PHB Diagnostics


Our diagnostics service provides a full operational review of your systems and processes against national requirements and your service objectives.



Specialist PHB training


We provide market leading training that delivers both insight and knowledge transfer. Our experts provide training in three areas:


Planning for PHBs
Philosophy of PHBs
Bespoke training.



Financial Monitoring


We will provide an accurate and efficient financial service to manage direct and third party payment budgets. We will provide proportionate and transparent monitoring to ensure that CCG money is being used appropriately to meet the person's health and wellbeing needs and manage financial risk associated with PHB, in a way that is flexible to the needs of the person and the ICB.



PHB service delivery


We can host your entire end-to-end PHB service with local variations that meet your exact needs, to deliver a high quality, effective PHB service for your population.


Benefits:
We have extensive experience and the practical knowledge to deliver effective PHB solutions which offer greater patient choice, improved care and better value for money.
We help you to develop flexible and responsive services designed around individual needs, transforming the patient experience with the potential to significantly improve individual health and wellbeing outcomes.