We are pleased to announce that Arden & GEM's IT team are now finalists in two categories at this years' Service Desk Institute (SDI) Awards.
The SDI Awards is the biggest annual celebration for service desk and support teams and welcomes hundreds of entries to recognise and celebrate the outstanding achievements of the IT service desk teams across the industry and across the world. Having been initially shortlisted against in two award categories, we have now successfully navigated judge's presentations to reach the finals.
Arden & GEM's first recognition comes from being selected as one of three finalists in the 'Service Desk of the Year' category, demonstrating our thorough understanding of every facet of delivering excellent IT service and support. Our submission reflects how the team works collaboratively in providing a fantastic service and illustrated the vital role played in ensuring organisational objectives and visions are met. The comprehensive assessment criteria for the award includes strategy, customer experience, staff engagement, continual service improvement, performance and innovation.
A member of the Arden & GEM team is also one of four finalists in the 'Service Desk Analyst of the Year' category. Our submission, detailing the work of Guy Barrett, highlights his unique blend of skills and knowledge and how his approach to service delivery puts the customer at the heart of all his work. Guy has demonstrated innovation, passion, and a tireless dedication to championing customer service, striving to constantly improve user experience.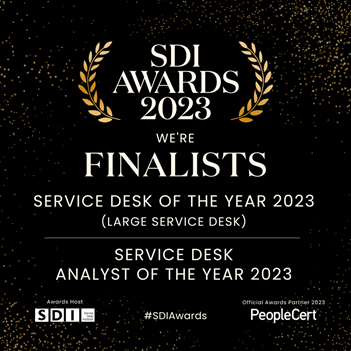 Arden & GEM's Head of Service Delivery, Andrea Slater, said: "I'm immensely proud that the support provided by individuals and our collective service desk team has made it through to the final stage of our industry's most prestigious awards. We are fully committed to continuous improvement after successfully achieving 3* certification from the SDI earlier in the year, and look forward to the judge's final decision later in the year."
The winning organisations will be announced during an award ceremony Monday 30 October 2023.
Find out more about the awards here.