Since May 2018, Arden & GEM's digital transformation team has been working alongside experts from the University of Edinburgh to evaluate NHS England's flagship Global Digital Exemplar (GDE) programme.
The evaluation team, which also includes University College London and Harvard Medical School, was tasked with assessing the impact of the GDE initiative in helping digitally advanced providers to pioneer the integration of digital technologies into patient care.
The evaluation has been split into five work packages, over a three year period; with Arden & GEM leading on the 'Scoping study of digital maturity, infrastructures and optimisation plans' phase. This will build upon the CSU's previous baseline review by undertaking a 'key lines of enquiry' investigation across all acute and mental health sites – and will also take in acute fast followers – making 40 sites in total. Visits include qualitative interviews with key decision makers, observations of meetings and systems in use, and looking at key themes across history, strategy, implementation, benefits realisation, relationships and lessons learned.
This first phase of the evaluation was completed at the end of October 2018 and provided key insights into the best approaches for delivering digitally enabled transformation, how systems can be best implemented and optimised and how best to share knowledge across sites, fast followers and the wider NHS. It also helped inform the other four work packages which are shown below: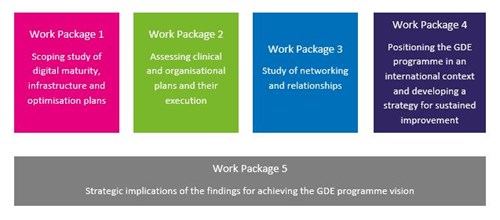 The project aim is to help shape government policy to support the NHS in taking full advantage of the benefits associated with health information technology. Further work will take place with sites during 2019, to continue to inform the evaluation, as they progress with their digital journeys.