Arden & GEM is working in partnership with Tekihealth Solutions to deliver a remote healthcare service to care home residents through Teki-Hub – a diagnostic set specifically designed for remote clinical examination.
COVID-19 presents a particular risk for the care home setting with many frail and elderly individuals, often with compromised immune systems or pre-existing medical conditions, living in close proximity. Isolating this group and reducing the risk of rapid infection is even more challenging set against a circulating group of healthcare workers and increasing demand for care home visits from clinicians.
Tekihealth has designed a unique solution that enables clinicians to provide a remote healthcare service to care home residents to reduce risk while maintaining the highest possible quality and continuity of care.
Teki-Hub is specifically designed for remote clinical examination. It consists of a hand-held modular diagnostic device connected to a compact lightweight wireless internet router. The diagnostic device features a high-resolution video and still camera, no-touch infrared basal thermometer, and set of digital stethoscope, otoscope and tongue depressor attachments. The diagnostic set can be used by staff with or without medical training to support virtual ward models of care and for triage, assessment and even direct supervision of treatment.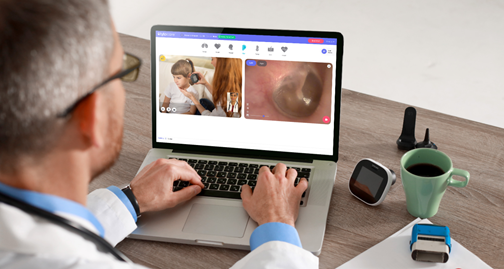 With devices already being trialled in care homes in Staffordshire and Scotland, Teki-Hub offers the potential to reduce inappropriate GP callouts, ambulance calls and admissions from care homes to hospitals, resulting in significant cost savings to our healthcare system.
Arden & GEM has already provided project management and evaluation support for the rollout of Teki-Hub within primary care settings in Cumbria and Norfolk, and is working closely with Tekihealth to engage further care homes in wide-ranging trials.
Anyone interested in learning more about how Teki-Hub could help them to deliver clinical examination and diagnostic services within care homes, through a socially distant solution, should get in touch with contact.ardengem@nhs.net.