NHS Arden and GEM Commissioning Support Unit (CSU) has supported a medium-sized acute provider to develop a workforce plan as part of a major restructuring exercise to reconfigure services.
By working in collaboration with Calderdale and Huddersfield NHS Foundation Trust's finance and HR teams, the CSU has examined the current role and skill mix (both clinical and non-clinical), future needs and the required cost savings to deliver a structured plan for the reconfiguration full business case.
The workforce plan offers creative solutions for maintaining quality of care, while reducing costs by approximately 20%.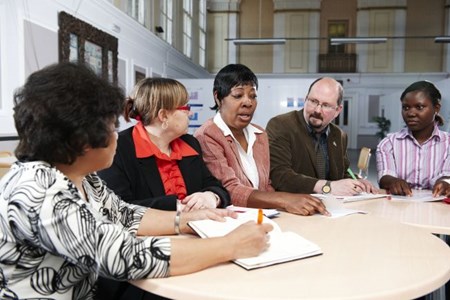 Understanding the challenge
Calderdale and Huddersfield NHS Foundation Trust (CHFT) employ 6,000 staff delivering care from two main hospitals. The distance between the two sites is just five miles and in 2014 a reconfiguration proposal of hospital services was developed to mitigate significant identified risks. The proposal centres on operating one site for planned care and the other site for unplanned and emergency care.
In April 2017, the Trust was required to put forward a full business case including a detailed workforce plan. The Trust faces considerable workforce challenges which undermine the resilience of clinical services, finances, and staff satisfaction and well-being. These challenges include non-compliance with the Royal College of Emergency Medicine workforce recommendations, intense and fragile clinical rotas, and recruitment and retention challenges resulting in a heavy reliance on locum and agency staff.
Many of these challenges are associated with dual site running, particularly in relation to out of hours rotas, increasing the reliance on junior and/or temporary staff.

Developing a programme
Arden & GEM provide a workforce planning service which ensures clients have the right people available, in the right place, at the right time to deliver against their priorities.
The CSU's team was commissioned to work in collaboration with Trust's finance and HR teams to develop a structured workforce plan, as part of the reconfiguration full business case.
Our specialist HR business partner began by bringing together the main stakeholders to agree key assumptions. This collaborative approach delivered a thorough understanding of operational delivery and enabled the production of a workforce plan that was realistic and achievable.
A period of detailed analysis was then undertaken to consider current capabilities, roles and skills, workforce capacity modelling as well as area demographics. The resulting plan examined the current workforce and challenges and provided potential solutions and benefits, including a 10 year workforce model.
The team's analysis also went beyond the initial brief to consider further innovations which would positively affect the workforce plan.
For example, our workforce systems specialist looked at how digital solutions such as e-rostering could have a positive impact on the Trust's sickness and annual leave absences.

Outcomes
The workforce plan was delivered on time and has detailed a number of benefits of reconfiguration which centre on having an effective and engaged workforce.
These include:
Improved shared care of surgeons and paediatricians which meet the Royal College of Emergency medicine recommendations and standards
Clinical rota resilience which will reduce the workload strain on staff, making the Trust a more attractive employer
Sub-specialisation of clinical services which will improve employment attractiveness
Improvements in skill mix
Improved junior doctor training, oversight and supervision
Recruitment, retention and locum resilience
Reduced long term sickness absence
Reduced agency and locum spend.
These benefits will all contribute to the Trust's overall objective of improved quality of care and improved outcomes for patients.
"We needed to deliver a workforce plan to support a reconfiguration full business case within very tight timescales. The Arden & GEM team was able to quickly understand the challenges, establish productive working relationships and develop a pragmatic approach. Their input was invaluable and the plan has subsequently been approved by our Board of Directors."
Jason Eddleston, Director of Workforce and Organisational Development, Calderdale and Huddersfield NHS Foundation Trust
 

More on this service