Arden & GEM's business intelligence and service transformation teams have been working in partnership with Nottingham University Hospitals NHS Trust (NUH), to model the impact that potential service changes can have on meeting cancer performance targets.
This collaboration has resulted in a prostate cancer pathway model which enables NUH to better understand the impact of service change on waiting times, activity and cost. The easy to use model will be maintained by the Trust's in-house team, continuing to support evidence based decision making which will ultimately improve outcomes for cancer patients by reducing diagnosis and treatment waiting times.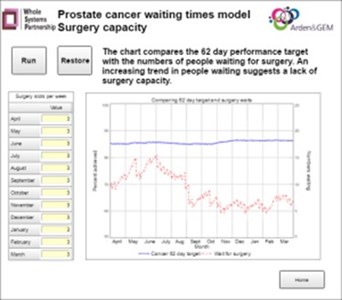 The challenge
As a tertiary cancer centre, NUH manages a high volume of both routine and complex cancer patients. The Trust was struggling to meet the 62-day cancer performance target (a maximum 62-day wait from referral to first treatment) which was largely attributable to referrals from other organisations being received late within the patient pathway; impacting on the time available to manage this patient group. 
NHS England funded Arden & GEM to support NUH in identifying, exploring and assessing potential improvements to help the Trust manage their 62-day timeframes. One initiative proposed by NUH was a new prostate pathway. For health systems looking to redesign patient pathways, understanding the impact that changing different elements of the pathway (on both demand and supply) will have on activity, financial performance and outcomes is crucial. NUH needed a way of testing and validating their proposed changes.
System dynamic modelling (SDM) is a proven approach to understanding the behaviour of complex systems over time. Arden & GEM has experience of successfully using this methodology for renal and cardiology pathways on behalf of the NHS England Direct Commissioning team.

Our approach 
Arden & GEM was working closely with NUH to better understand what actions could be taken to improve cancer referral to treatment times. Redesign of the prostate pathway was identified as one way of achieving this and our business intelligence analysts utilised a system dynamic approach to model potential impact. Expert advice and support was provided to the CSU team by Whole Systems Partnership (WSP), an organisation with significant experience in using this approach within health and social care.
Evidence and benchmarking review
The first step in the process was for Arden & GEM to undertake a comprehensive review of published data and literature in this area, with a specific emphasis on identifying initiatives with empirical evidence of improving pathway performance, to inform NUH plans.
This was presented to NUH as both a written report and through face to face sessions, providing the opportunity to review findings in greater detail with all stakeholders.
Engagement
SDM methodology is more than a modelling approach. Engagement and testing assumptions with key stakeholders is central to each stage of development. This is crucial for both securing buy in and for accurate logic mapping. For NUH, this included an introductory engagement session including consultants, senior nurses, pathway trackers, administrative staff and operational management.
Multiple sessions were run by experienced facilitators from our service transformation team to map the current pathway, identify potential innovations and identify relevant data sources. This enabled stakeholders, with busy schedules, to participate in a flexible manner. The result was a highly complex logic map that shows how the current system works including timescales.
Development and testing
Bringing together the logic map and system data (such as consultant and theatre capacity) our analysts were able to build a 'steady state' model. Functionality and outputs were tested with the stakeholder group and further adjustments made to improve accuracy.
Further testing was then undertaken by introducing a number of scenarios on both the demand (e.g. an increase in tertiary referrals) and supply (e.g. increase in consultant activity), with findings regularly fed back to the Trust leads for clarity and challenge.
Analysts then refined the model's functionality and developed a client friendly view which has been loaded onto a dedicated web portal for NUH staff to access. Staff have received face to face training sessions to enable them to configure and use the model without the need to commission further external support.

The outcomes
NUH now has an accurate prostate cancer waiting times model, which can be configured and maintained by an in-house team. The model allows multiple scenarios to be run over time, using the pathway logic defined by the Trust.
This can support both strategic decisions – such as prostate pathway redesign – and operational decisions – such as how best to cope with spikes in demand that will be generated by planned public health campaigns.
The model enables the Trust to:
Proactively demonstrate to their Board the impact of changes in the prostate pathway
Make evidence based decisions about pathway changes and resource implications
Test the potential impact of improvement initiatives from other geographies in the local system
Build stakeholder confidence in change programmes
Identify the drivers behind successful practice
Validate published data and use evidenced based literature to identify other beneficial changes.
"Arden & GEM worked with us to model our prostate cancer pathway, as this is an area where we have a number of challenges. Using the skills and knowledge of the team we were able to use new modelling techniques and approaches to understand how proposed changes to our services would impact on our delivery of the 62-day target. Throughout the process the CSU team was invaluable in supporting us approach this challenge.
The model developed was visually excellent, user friendly and enabled future developments to be built in, which is crucial for a rapidly changing service. It will enable us to support future business cases, to demonstrate why investment is required, as it clearly shows what surgical /clinic capacity is required to meet targets."
Andrea Collis, General Manager at Nottingham University Hospitals NHS Trust
Next steps
Within Nottingham, the project partners are looking at ways in which they can develop a new model for the lung cancer pathway. This SDM approach can also be used across a larger geographic footprint, such as STP level, to support system transformation programmes.

More on this service