NHS South Warwickshire Clinical Commissioning Group (CCG) identified that switching patients currently on branded medicines to a generic equivalent could support them to stay within the overall prescribing budget.
The Prescribing and Medicines Optimisation team at NHS Arden & GEM Commissioning Support Unit (CSU) designed a set of practical materials to support GP practices to deliver this. By working closely with six practices to implement the switches, over £37k of savings have already been achieved.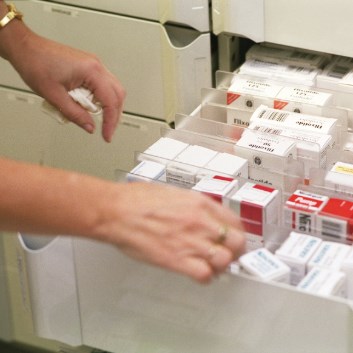 The challenge
Generic versions of prescription drugs are often substantially cheaper than their brand name counterparts. As prescribing is the most common patient-level intervention in the NHS, use of generic drugs (where clinically appropriate) in preference to branded versions can deliver substantial cost savings.
In the UK, before a product licence is granted to generic versions of medicines, there are strict quality controls that need to be met. This ensures that a generic version will be of the same quality and have the same action. As a result, practices can be confident of making switches without compromising patient care. Realising potential savings not only helps practices stay within their individual prescribing budgets but also delivers savings to the health economy as a whole.

Our approach
We obtained and analysed data, then contacted the six practices within South Warwickshire with the highest opportunity for potential savings. Practices were offered hands-on support to help achieve these savings which included both materials and on-site visits.
The CSU team produced a number of practical materials including a standard operating procedure for brand to generic drug switches and proactive communications templates for patients, to explain the rationale for switching their medication.

The outcomes
By comparing the baseline data initially shared with the six practices (which indicated potential savings to be made based on data from Quarter 1 2014) to the potentially savings still to be made within Quarter 3 2014, we were able to demonstrate that over £37,000 worth of savings had been achieved during this period.
                     Potential savings: Based on Q1 2014 data           Savings achieved by Q3 2014
Practice 1                         £25,894                                                  £11,852
Practice 2                         £23,692                                                   £9,050
Practice 3                         £13,489                                                   £3,388
Practice 4                         £12,591                                                   £4,692
Practice 5                         £12,318                                                   £3,723
Practice 6                         £12,059                                                   £5,002
Total savings                                                                               £37,707
"We found NHS Arden & GEM to be helpful and supportive. They thoroughly explained the process involved and were comprehensive. The prescribing staff felt enabled to make the appropriate changes and confident in doing so. Changes have been implemented as recommended."
Dr Madan, Abbey Medical Centre, Warwickshire
 

Next steps
Arden & GEM's Prescribing and Medicines Optimisation team will continue to work with practices within NHS South Warwickshire CCG to support them to realise drug switch savings.

More on this service