Research shows that people from different minority groups are more susceptible to mental and physical health problems, and many experience barriers to accessing the right support.
The NHS aims to provide equality of access to care for all UK residents and is an equal opportunities employer. As the UK's biggest employer, with a potential customer base of over 64 million, getting it right first time, every time, requires continued effort, commitment and an innovative approach.
Working in partnership with Coventry and Warwickshire Partnership NHS Trust (CWPT), NHS Arden & GEM Commissioning Support Unit developed a training programme to help staff understand the issues and inequalities facing minority communities and encourage direct action to improve access to health services.

The challenge
Statistics show that people from black and minority ethnic (BME) backgrounds living in a predominately white society are more likely to suffer from long term disease and stress, and are likely to die earlier. Lesbian, gay and bisexual (LGB) people – of which there are approximately 60,000 in Coventry & Warwickshire – are more likely to suffer from mental ill health, self-harm, drug abuse and have a greater inclination to drink and smoke.
With Equality, Diversity and Human Rights Week on the horizon, we worked with our CWPT colleagues to develop a training programme designed to improve understanding and reduce unconscious bias.

Our approach
Looking at some of the main issues relevant to our local communities, we identified a range of topics that would offer staff a mix of learning opportunities and directly address issues which impact quality of patient care.
The free training programme was offered to NHS and public health staff across Coventry and Warwickshire and focused on active engagement with experts, which:
Educated and empowered employees in their equalities and human rights responsibilities
Improved understanding of sexual orientation and its impact on patient needs and wellbeing
Explored the role of faith and culture in overall wellbeing
Fostered greater empathy among staff in handling different situations
Underpinned the importance of equality compliance.

The programme
Understanding the needs of lesbian, gay, bisexual and transgender patients: This session was led by leading LGBT charity, Stonewall and challenged some of the misperceptions around lesbian, gay, bisexual and transgender issues. As well as discussing some of the particular challenges LGBT patients can face, the discussion looked at unconscious discrimination, including terminology and assumptions made by staff, which could unwittingly contribute to a patient feeling uncomfortable. 
Participants were also given the opportunity to watch 'What if gay were straight?' In this video, the world is turned on its head, where being gay is the norm. The video had a powerful impact on attendees and has since been shared with all health teams across Coventry and Warwickshire through staff intranets.
Empathy in healthcare: Led by social innovation charity, The Young Foundation, this session introduced participants to 'empathy mapping'. This technique is designed to help NHS staff and commissioners 'walk in the shoes of their patients', approaching service design and delivery from the point of view of the person seeking/receiving treatment.
Understanding the NHS equality framework (EDS2): Delivered by NHS England, this session clarified the expectations on staff and the NHS as a whole in meeting their obligations under the new EDS2 framework.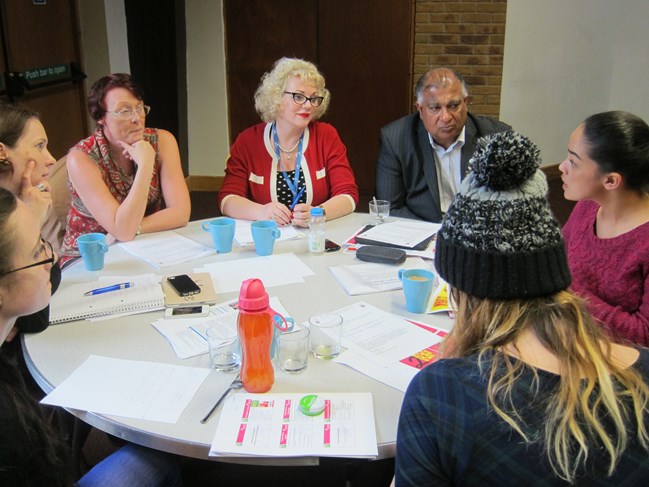 Closing conference, led by Jagtar Singh OBE, Chair of CWPT and Paul Deemer, Head of Equality, Diversity and Human Rights, NHS Employers: Attracting over 80 attendees from health and social care services, this conference tackled issues including:
Understanding the connection between culture and health, using the topical example of female genital mutilation. Detective Constable Gill Squires from West Midlands Police discussed the challenges and proactive approach being taken to tackle this practice in some communities.
Equality compliance and staying legal, featuring expert advice from specialist law firm, Capsticks.
Mental health and the weathering effect of race equality issues. Yvonne Coghill OBE, from NHS England, talked about the link between ethnic origin and overall health and wellbeing, including the impact of simply 'being different' on mental health.
The event culminated in an open discussion about the future of equality, diversity and human rights in the NHS. 
Participants worked in groups to discuss what works well and where the barriers exist. Feedback was shared for open discussion, with specific points made about how to engage more effectively with young people and ways to encourage best practice. 
"Every subject was informative and eye opening.  I have learnt a lot."
Conference delegate
The outcomes
In total, 150 people from the region's CCGs, providers, community health teams, and commissioning support staff attended some or all of the sessions. Approximately 160 hours of mandatory equality and diversity training were completed during the week. All materials, videos and help sheets from the sessions have since been made available to staff electronically. 
During the closing conference, participants downloaded the NHS Employers 'Personal, Fair, Diverse' app which encourages NHS staff to sign up to become an equalities champion. From this conference Coventry and Warwickshire now have 37 diversity champions who will push the equality agenda forward.  
A summary report including recommendations from the group sessions was submitted to the CWPT board meeting and a commitment has already been made to launch a staff award scheme to recognise excellence in equality and diversity. A group of young delegates have also been invited to join the CWPT governing body meetings to give their ideas and suggestions for health services for younger people.
"EDHR Week has been a really positive experience for me and my colleagues. I'm encouraged to see the level of commitment and enthusiasm from teams across Coventry and Warwickshire to work together to break down barriers which still exist for some of our residents and patients."
Jagtar Singh OBE, Chair of CWPT 

More on this service