In order to ensure that care home residents throughout Norwich were receiving annual multidisciplinary medication reviews, Norwich CCG approached Arden & GEM's medicines optimisation team to support their locally commissioned service for care homes. The team designed a care home medication review programme which has been successfully running for four years.
The service has completed more than 2,600 reviews to improve the quality, safety and appropriate use of medicines, delivering cost savings in excess of £80k. Additionally, the team has compiled and maintained a library of best practice and identified areas for improvement which have increased alignment between care homes and GP practices, and enhanced communication and information flows across the wider health and care system.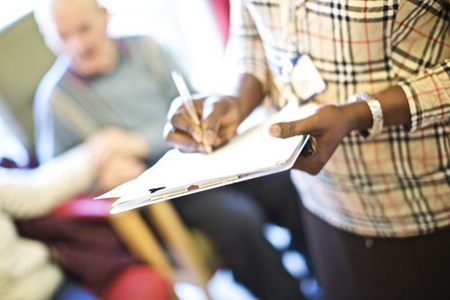 The challenge
Many care home residents have multiple and complex conditions which can change over time. It is essential that the medicines being used to treat these conditions are regularly reviewed to ensure they remain safe and effective. The NICE 'Medicines management in care homes' quality standard suggests that this should take place annually, as a minimum, with the medication review conducted by a multidisciplinary team.
Medication reviews are essential for:
Checking whether a patient still needs to take all of their medications
Finding out whether the medicines are being taken as intended and are helping
Ensuring medicines aren't causing harm or risk, including any issues with side effects or reactions
Exploring whether additional medicines should be offered
Answering any questions or addressing any concerns of patients and/or their carers.
Within Norwich Clinical Commissioning Group (CCG), there are 31 care homes delivering local commissioned services (LCS) with capacity for over 1,000 patients. The CCG's LCS for care homes needed support to design and deliver a medication review programme that would improve the quality, safety and appropriate use of medicines. 

Our approach
The medicines optimisation team includes pharmacists and pharmacy technicians with a range of experience and expertise across both primary and secondary care. By working in partnership with Norwich CCG for the past four years, we have developed a consistent and effective care home medication review service.
A robust review process
Each April, the team develops a review timetable which prioritises care homes based on CQC inspections, local concerns, clinical availability and last review date. This is shared with all GP practices so that everyone is aware of the timeline and can work collaboratively.
During the review, each patient has a holistic, patient-centred medication review – either at the home or at their GP practice – with a multidisciplinary team. This can result in a number of interventions.
Most commonly allergy information is updated, treatment duration is confirmed, dose instructions are added or amended, and medications are stopped. Arden & GEM's technicians ensure that patient records are accurately updated and any changes are followed up in writing with both the care home and supplying pharmacy.
Supporting and sharing best practice
In addition to the medication review cycle, our team also provides technical support to care homes and shares best practice guidance. A suite of information, signposting and best practice guidance, informed by care home medication review visits, has been compiled and maintained on a dedicated area of 'Knowledge Anglia' – the region's local extranet system – as well as Norfolk County Council's website and a pan-Norfolk and Waveney dedicated care homes newsletter. The team regularly add best practice guidance for a wide range of topics such as homely remedies and secondary dispensing.
Wider service improvement
The process mapping undertaken and recommendations made by the care home medication review service have also helped to shape improvements in wider service delivery throughout Norwich. In particular, the service identified that care homes in Norwich were often looked after by multiple GP practices. This led to a city wide realignment project, in consultation with patients and their families, which now means that care home residents have consistency of care with a health professional making weekly visits to the home. 

The outcomes
By continually adapting the care home medication review service to meet evolving local need, over the past four years, the team has been able to increase the appropriateness of medications and reduce problematic polypharmacy. This has had a direct impact on cost savings, with an average saving per financial year in excess of £20k.
Total reviews, interventions and cost savings for the period April 2014 – March 2018.
Total number of completed reviews: 2,693
Total number of interventions: 6,166
Total cost savings: £80,916
Reviews have also had a direct impact on patient safety, including uncovering serious incidents. For example, one patient was discovered to be receiving a strong opioid treatment both orally and via patches, when one should have been substituted for the other, due to a communication issue between professionals.
Additionally, the service has proactively used its experience and learning to identify recurring issues in both care homes (feeding into the pan Norfolk Care Home Steering Group) and GP practices to improve communication and information flows. For example, care homes reported struggling to know what information was appropriate to send with residents who attended hospital. Our team liaised with the local hospital sites and ambulance service to develop a list of relevant information which was then circulated to care homes.

Next steps
The wider medicines optimisation team is currently delivering care home training packages to increase knowledge and understanding of prescribing and medicines among staff.
Local pharmacists and technicians are delivering the NHS England Medicines Optimisation in Care Homes programme for the Norfolk and Waveney STP. 


"Having this service has ensured good communication between health and social care practitioners and care home residents, their family members or carers about their medication. This has had positive impacts on their quality of life, by reducing polypharmacy, and helped alleviate cost pressures on the CCG through reduction in medication waste."
Joe Farrow – Commissioning Programme Manager at Norwich CCG
 

More on this service