With Microsoft's support for Windows 7 coming to an end at the beginning of 2020, the two provider trusts and CCG in Lincolnshire needed assistance to move more than 7,000 devices onto Windows 10.
Arden & GEM's IT service mobilised and delivered a programme of work underpinned by robust project management, regular and transparent communication, and adaptability to changing circumstances. As a result, the target number of devices was successfully updated within budget and within the revised timescales dictated by the coronavirus pandemic.

The challenge
With Microsoft's support for Windows 7 coming to an end at the beginning of 2020, the two provider trusts in Lincolnshire: Lincolnshire Partnership NHS Foundation Trust (LPFT) and Lincolnshire Community Health Services NHS Trust (LCHS), needed assistance to move 4,287 devices onto Windows 10.
Arden & GEM has been providing IT services to the two trusts since its inception in 2013. This provision includes supporting over 4,000 users, 60 servers and managing more than 90 small projects, over the last financial year, including hardware refresh programmes and the migration to NHS Mail.
Based on this successful track record, the CSU was chosen to deliver the Windows 10 deployment programme over a seven-month period.

Our approach
Mobilising resources
A swift mobilisation process was needed to enable devices to be upgraded and deployed as soon as possible, ahead of the deadline for Microsoft to withdraw support. A team of field engineers was recruited, onboarded, inducted and trained.
The number of engineers was flexed to meet the needs of the project, decreasing from 34 to 12 as the rollout neared its conclusion. Three existing members of staff were seconded to senior positions and were responsible for managing the team which enabled established relationships and local knowledge to be harnessed. The team worked across both providers so that resource could be responsive to user availability.
In addition to people, new equipment was also needed, from new memory to upgrade existing devices to completely new desktops and laptops. Asset inventories informed device baselines and order levels for new hardware, with all new equipment conforming to build requirements approved by the end user device management team.
Running the programme
A dedicated programme manager was tasked with overseeing the programme to develop strong relationships with the client and ensure robust project management principles were adhered to.
To ensure the process ran smoothly and that capacity was optimised, a booking system was purchased to plan site visits. Capacity was calculated, taking geographic considerations into account, loaded into the system and appointments booked accordingly.
The programme manager and senior technician within the team worked closely with each organisation to identify staff groups who weren't booking appointments and tailor the process to accommodate these groups e.g. out of hours teams who may not be onsite when time slots were available.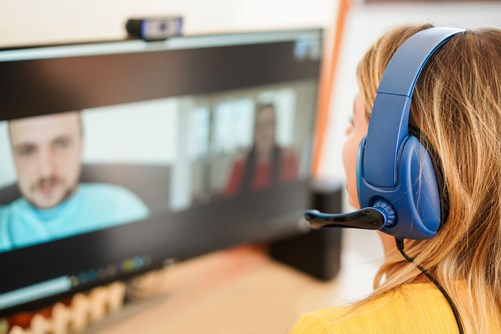 Client engagement
Weekly checkpoint calls took place with a nominated lead from each organisation to review historic and current progress and future plans supported by a weekly dashboard which showed actual progress and the current trajectory. Monthly updates were also given to the STP Digital Programme Group. This regular communication and reporting gave customers assurance of project progress and confidence that targets would be met.
Responding to COVID-19
As the UK went into lockdown, in the middle of March 2020, the project was at 90% completion and on schedule to meet the agreed deadline. The difficult but necessary decision was taken to halt the project.
As restrictions were eased and the programme restarted, changes had to be made to the way in which devices were upgraded. Rather than running open drop-in sessions, engineers each worked from separate rooms with Trust staff members remaining in a holding area while the upgrade took place.
While this approach reduced the daily capacity, staff members were keen to book in to take advantage of the Always On VPN solution and 'no shows' reduced dramatically.
Extending the programme to GP practices and the corporate team
As work continued with the two providers, NHS Lincolnshire CCG also engaged the CSU to update 3,130 additional devices across the CCG and its 86 GP practices. The GP rollout required a different approach as user devices couldn't be updated while clinical sessions were in progress.
To overcome this, the field engineer team would build new devices offsite and then visit the practice to replace existing devices – recycling, rebuilding and destroying equipment as appropriate. Not only did this approach speed up the upgrade process but it also avoided unnecessary personnel being onsite.
As part of the GP rollout process, a senior technician also undertook a site visit or video call with each practice to fully understand their requirements, existing equipment and use of third-party software. This enabled the migration to be completed as effectively as possible including providing support to resolve any software compatibility issues.

Outcomes
As a result of strong programme leadership, regular communication and adaptability to changing circumstances, the Windows 10 rollout has been delivered within budget and has met the revised timescale targets following the coronavirus pandemic.
A total of 7,417 devices (both existing and new) have been upgraded and deployed for users.
More than 200 sites have been supported through the Windows 10 rollout.
The entire project was completed within 12 months despite the challenges created by the COVID-19 pandemic and lockdown.
Additionally, during lockdown, the CSU built over 750 devices centrally which were distributed to Trust, CCG and GP staff.
"Arden & GEM has supported us well during our Windows 10 project and has produced project plans based on our needs and true collaboration. There were regular touchpoints throughout the project which provided the means to discuss and escalate issues. The CSU has also stepped in to support us with legacy systems and provided a very responsive service."
Ian Baldam, Deputy Director of Informatics at LPFT