In its commissioning intentions, Coventry and Rugby Clinical Commissioning Group (CCG) states "No payment for newly prescribed tariff excluded drugs unless Provider can demonstrate compliance with NICE guidance or agreed local prescribing protocol". We were tasked with developing a process that would ensure this intention was fulfilled.
On behalf of the CCG, we worked closely with software company, Blueteq®, to develop software which delivers significant improvements in the management of tariff excluded, high cost drugs. As a successful QIPP scheme, this system has delivered a significant efficiency saving against the high cost drugs budget and provides assurance that high cost drugs are being used and monitored appropriately.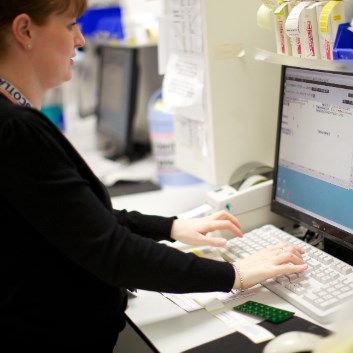 The challenge
As other commissioners have similar commissioning intentions, our Medicines Optimisation Team reviewed how their provider Trusts demonstrate compliance. Most Trusts provide evidence in the form of paper-based proformas, which are completed by clinicians before the drug is used and are sent to the commissioner for approval of funding. 
Adopting this practice caused concern for our local acute providers as it was felt to be too bureaucratic, resulting in delays in treatment and possible Information Governance breaches if the paper proformas were lost. Therefore, a web-based system (Blueteq®) was identified which allows clinicians to complete an online proforma and receive automatic approval for funding if the patient meets all the relevant criteria.

Our approach
Our team was responsible for supervising the successful implementation of Blueteq® and ensuring the software was adapted to meet the needs of the project. We worked with the CCG and Trust to ensure a robust implementation plan was developed and monitored progress against the work plan.
In partnership with the CCG-funded High Cost Drug Pharmacist, we engaged with clinicians to ensure they were fully on board and understood the importance and benefits of using the system. We provided technical support to the Trust as required, including running demonstrations of Blueteq® and delivering training for users.

The outcomes
The online proforma database is now monitored by the High Cost Drug Pharmacist to ensure that all patients who are newly started on tariff-excluded drugs meet the required criteria. The CCG has reassurance that tariff excluded drugs are being used in line with commissioning criteria. The same approach will be adopted by NHS England during 2014/15 to ensure a consistent commissioner position.

What we learned
This successful project was delivered on time thanks to the CCG funding a High Cost Drug Pharmacist role in the acute Trust to implement schemes which benefit the CCG. This has also led to improved collaboration between the Trust and NHS Coventry and Rugby CCG.

More on this service