NHS Continuing Healthcare (CHC), and the requirements of the National CHC Framework, specifies that where the NHS is commissioning any part of an individual package of care, a case review should be undertaken no later than three months after the eligibility decision, and annually thereafter, or in line with individual need.
We worked with our clients to develop a timely assessment programme, including the prioritisation of overdue reviews. Our approach has improved outcomes for patients, ensured compliance with the national framework, and has delivered savings for Clinical Commissioning Groups in Coventry and Warwickshire.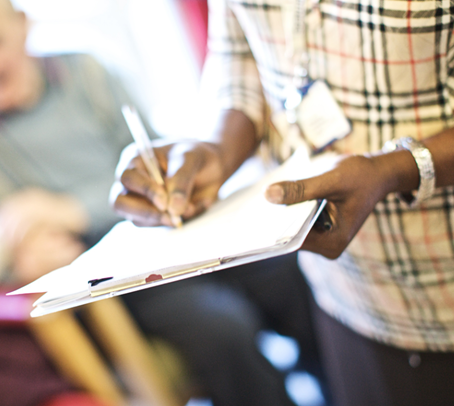 The challenge
Historically, not all NHS Continuing Healthcare reviews had been undertaken in a timely manner meaning that patients may not, at all times, have been in receipt of the most appropriate package of care to meet their needs.
Recognising both the importance of delivering the best quality care to patients and maximising best use of resources, implementing timely reviews became a priority for our specialist Continuing Healthcare team.

Our approach
We began working on an assessment programme which would meet the requirements of the National CHC Framework, deliver benefits to customer CCGs and support individual patients.
We began by completing an audit of all Continuing Healthcare cases in order to establish a proposed order of prioritisation. This was followed by the production of a Business Case for each CCG, highlighting the issues and identifying a proposed approach including key performance indicators, milestones and a clear plan for delivery.
We also secured engagement from all local authorities and established a local joint working protocol, which outlined each organisations' responsibilities to the NHS Continuing Healthcare assessment and decision making process.
The work of the team was subject to robust internal audit processes. A Decision Support Tool was applied in all cases and multidisciplinary team recommendations were verified via a joint ratification process with the local authority.

An integrated team
Drawing on specialist expertise from other teams within NHS Arden & GEM Commissioning Support Unit we have been able to provide both robust support on associated contracting issues, as well as clinical expertise through our assessment team.
Our Contracting and Procurement Team was able to address identified contractual issues such as the application of incorrect weekly charges, as well as implementing contract variations where patient needs change. We have also worked together to develop a bespoke activity/finance template for each CCG in order to enable the team to track progress, financial impact and individual patient status.
On behalf of our CCG clients, we have established a dedicated team of Nurse Assessors who are responsible for the delivery of the agreed programme of reviews.

The outcomes
By supporting CCGs to manage financial, clinical, quality and safety risks, and by focusing on person centred care, they understand exactly what is required to deliver timely reviews. Thanks to a robust and systematic approach, supported by effective partnership working, this project has also helped our clients in manage quality and safety standards in a more efficient way.
As a result, we have enabled CCGs to improve their compliance with the framework via timely delivery of reviews and to ensure the appropriate package of care is in place to meet the needs of individual patients. In addition, our clients have benefitted from financial savings as a result of this project during 2013-14.

More about this service