Effective engagement with general practice is key for medicines optimisation (MO) teams to support the delivery of the prescribing agenda i.e. to deliver safe, clinically effective and cost-effective medicines, while improving health outcomes.
Typically, Clinical Commissioning Group (CCG) and Commissioning Support Unit (CSU) medicines optimisation teams (sometimes referred to as medicines management teams) spend a significant portion of their time undertaking regular and strong engagement with key contacts within practices, building trust to support prescribing change. Often, MO services are undertaken directly within general practice making it easy to build relationships with key individuals.
The establishment of Primary Care Networks (PCN) in 2019 has led to changes in the roles and responsibilities of the general practice workforce, meaning existing contacts are often no longer appropriate. This engagement challenge was further compounded by the COVID-19 pandemic which resulted in the NHS, including practices and PCNs, enacting business continuity plans and reprioritising workstreams and workforces at pace. In line with national guidance, there was an increase in remote working, face-to-face patient contact moved to virtual or telephone appointments, some staff were reassigned to support local trusts and many were reassigned to delivering the largest vaccination programme in the NHS's history.
Alongside this, MO teams were facing additional challenges in setting up remote working, reprioritising or even pausing business as usual workplan delivery and retraining staff to support the frontline efforts. Consequently, MO teams have had to adapt their approach to engaging with practices and this article describes some of the methods the MO team within NHS Arden and Greater East Midlands CSU has adopted during the pandemic.
Overcoming challenges in communicating with practices
It was important for our team to overcome any communication challenges early on and to ensure that any contact we did have with practices was able to add value to the practice team and patients. We continually asked ourselves, "how can we provide support to practices which will reduce their workload?".
The following five-point approach successfully improved our engagement with practices: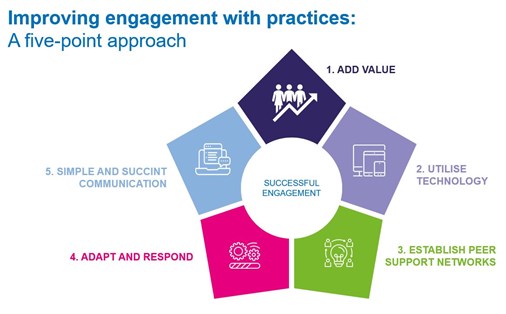 1) Add value
We identified early on the pressures within practices from patients chasing repeat prescriptions or putting in multiple requests for repeat prescriptions. To tackle this, we put together a support package that explained how to increase the number of patients on repeat dispensing by utilising the national electronic repeat dispensing (e-RD) approach. This was delivered in two ways; firstly, through a support package consisting of an electronic written guide to explain which patients would be considered as 'ideal' for e-RD and how to set these patients up on e-RD, and secondly, by contacting practices to offer to carry out this work for them. This helped to re-establish relationships and demonstrate that we were there for practices, to continue supporting them and their patients.
2) Utilise technology
Our organisation was an early adopter of the online communication platform Microsoft Teams and had been using this tool for 12 months before the pandemic hit. Alongside this, the MO team was accustomed to the large majority of staff working in an agile way, which included working across multiple sites on a shared platform, communicating effectively using virtual resources and working across different workstreams. We were able to share our experience of using Teams, alongside email and telephony systems, with practice colleagues so that they could quickly identify best practice and benefits for their own use.
3) Establish peer support networks
Recognising the pressures emergency situations can create, we were keen to support practice and PCN pharmacists and pharmacy teams. Working with our contacts, we opened our support networks, utilising platforms such as Teams, to create online groups. We kept our virtual groups as informal, weekly sessions. This enabled participants to discuss and resolve issues promptly. We hoped that an added benefit of these networks would be to support staff health and wellbeing during an intense and uncertain time.
4) Adapt and respond
This was the most important element but one which is often is downplayed. From the outset of the COVID-19 pandemic, we were very clear with our team that while we did not know what was on the horizon and in what capacity our services may be required, we did know that, as an NHS organisation with vast skill among our workforce, we would be important to the national response and would need to respond accordingly.
As part of being able to adapt and respond, it is important to understand the skill mix within the existing workforce so you can signpost and seek support as appropriate. It is also important that staff always work within their scope of competency and undertake the necessary training that may be required to deliver new roles. By doing this, we were equally able to offer ourselves as a further resource to be utilised by practices and the wider NHS to ensure the delivery of patient care as required.
As part of adapting and responding it is also important to consider the needs of the individual practice, which can vary widely. MO teams may want to identify a key individual, or establish a rota system, to respond to queries as this may help to improve workforce efficiency while ensuring that a timely reply is received.
5) Simple and succinct communication
We recognised that practice staff did not want to be inundated with reams of information that they needed to interpret and digest. We ensured simple summaries, with key information that flowed in a logical order highlighting pertinent points and, if necessary, adding in links to relevant documents so that the information can be sourced easily.
As part of our approach to keep communication simple, we wrote out to all practices reminding them that our single point of access for prescribing queries was the best route to send questions. This was an email inbox that we monitored during normal working hours which allowed us to easily assign questions or requests for support to the team, while minimising the risk of lost emails/ questions due to staff sickness or redeployment.
Summary
The challenges faced during this pandemic have been unique and unprecedented, but we must use this as an opportunity to break down historic barriers to communication, learn from the lessons that we have faced and nurture both new and existing relationships within a new world.
By capturing our approach to engagement throughout this period we hope to share some of the tools and techniques that can be used to overcome communication challenges and ultimately support safe and effective prescribing within general practice.
This blog is taken from an article written by Mahesh Mistry and Jo Loague for the Journal of Pharmacy Management.