Rizwan Patel, Project Manager at Arden & GEM, was recently named 'Rising Star' at the NHS Asian Professionals Network Alliance (APNA) Awards 2023.
Here he shares how an apprenticeship offered a route into healthcare and the steps he is taking to fulfil his career ambitions.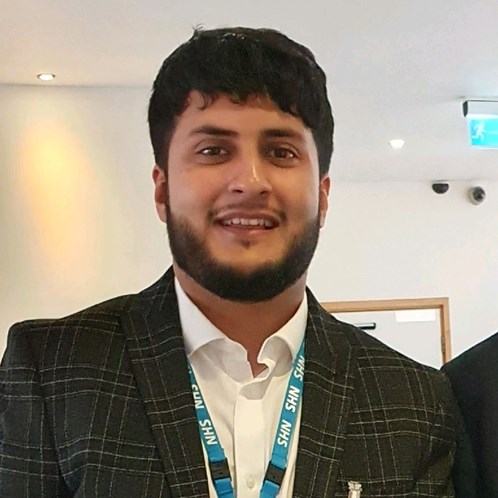 What is your role and what does it involve?
My name's Rizan and I'm a Project Manager in Arden & GEM's Business Intelligence (BI) directorate. I'm responsible for managing the delivery of BI projects, ensuring they complete the entire project lifecycle using my skills in PRINCE2 and Agile. At present, I'm working on the delivery of a programme for our client, NHS Bedfordshire, Luton and Milton Keynes (BLMK) Integrated Care Board which involves developing a range of dashboards.
An average day for me involves:
Developing project plans
Checking in with resources
Reporting/ providing assurance to project boards
Producing highlight reports.
How did you get into your role?
I took a non-academic route into my career – through an NHS apprenticeship – as I was eager to start working while learning at an early age. My apprenticeship provided me with a chance to understand the healthcare system and I've learnt a lot and come a fair way since, working in a plethora of settings including an acute NHS Trust for four years as well as a local authority.
What makes you proud in your job?
Transforming services and bringing real benefits to customers and their organisations. My biggest achievement so far has been delivering elements of the BLMK analytics programme as well as supporting the transition of our Project Management Office (PMO) to new tools.
What are your career aspirations?
I want to become the best at what I do in project management with aspiration to climb the ladder. I've already had the opportunity to support a wide range different projects from helping to tackle the COVID-19 elective care backlog to auditing information governance requirements. And by taking on more challenging projects, involving large-scale transformation and change, and enrolling onto the many learning and development opportunities available to me, I'll achieve my ambitions.
What advice would you give someone looking to manage BI projects?
- Always remain ambitious
- Anything is possible
- Every day is a new opportunity to learn and achieve
- Project management is an always developing field, so it's vital to become and stay knowledgeable in all areas.
We are always looking for passionate, talented people who can bring new ideas and new ways of working. Find out more about our latest job vacancies here.