Welcome to the new edition of Digital Horizons - our technology newsletter to keep you informed of the latest digital developments in healthcare.
In this issue we'll be looking at the impact of the COVID-19 pandemic on healthcare delivery and how different care settings have embraced existing technology to minimise potential exposure for both patients and workers.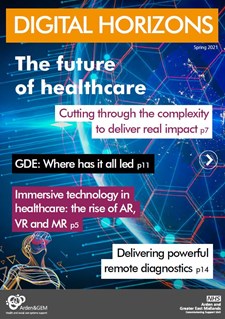 We take a look at how primary care has adapted its support to care homes aided by remote monitoring and diagnostics. We also hear from our guest contributor, ATWG on how immersive technology has been playing a greater role, particularly when it comes to staff learning and patient education.
Our latest update on the Global Digital Exemplar (GDE) programme evaluation also considers the advantages of digital maturity in being able to respond and implement solutions at pace.
Alongside COVID, one of the key themes running through this issue is the potential offered by 5G connectivity. At Arden & GEM, we believe connectivity is key to digital transformation and in 2021 we will continue to work with 5G test beds and mobile operators to shape new models of connectivity-enabled care.
In addition to the care home diagnostic tools which are helping GPs to remotely monitor and assess patients, you can also hear from the Satellite Applications Catapult about the 5G enabled 'Living Lab' facility as well as an update on how better connectivity can support the move to at-home diagnostic tests.
And lastly, we have an update from the 'Population and Person Insight' project on their work to develop national resources for population segmentation.
You can access an interactive pdf version of Digital Horizons by clicking here.
As an NHS organisation, we are always keen to share our thinking and understand your ambitions, so whatever your digital healthcare challenges, we'd love to engage in an exploratory discussion with you. Contact us at contact.ardengem@nhs.net