Arden & GEM is pleased to announce a new webinar specifically aimed at NHS Leaders who want to drive improvement in performance, planning and the delivery of value. The online event will be held 10:00-11:45 on Wednesday 29 March 2023
With statutory duties requiring Integrated Care Boards to undertake annually updated five-year health service planning, Integrated Care Systems have a unique opportunity to align and coordinate planning to better meet the needs of their population.
An event for NHS leaders with resource management, performance and delivery responsibility
Our webinar will take attendees through the journey of connected planning, governance, and delivery and the lessons learned as well as seeking interactive involvement from participants to shape the debate.
Speakers include a panel of experts planners and change leaders that will provide learning from commercial sectors, NHS and consulting teams. The event will provide an opportunity for professional leads in finance, workforce, performance improvement, operations and procurement to network, and share recommendations on how to improve our connected planning journey.
The agenda has been confirmed as: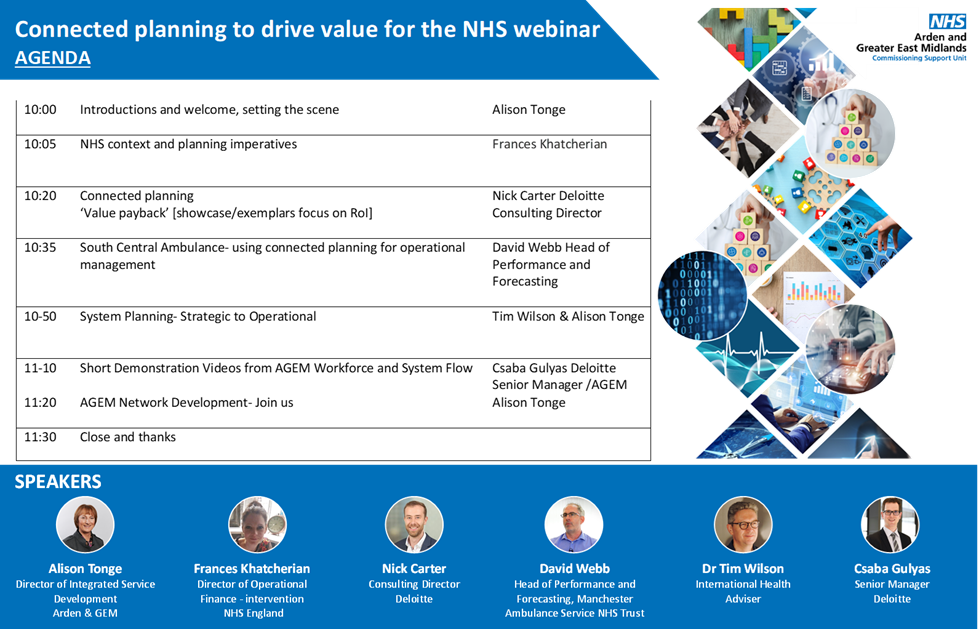 What to expect on the day:
Real world case studies of transformed approaches to driver based integrated planning and shared decision making
Working models and proof of value examples currently in development
Insight into the possibilities delivered from leading planning technologies
Exploration of common planning challenges and priorities for different operational users
Interactive break out opportunities to engage and ask questions
The opportunity to further participate in communities building excellence and innovation in NHS planning
Secure your free delegate badge by clicking here.
Please note that this event is exclusively for senior NHS/public sector delegates only – Right Of Admission Refusal retained.