Welcome to the new edition of Digital Horizons - our technology newsletter to keep you informed of the latest digital developments in healthcare.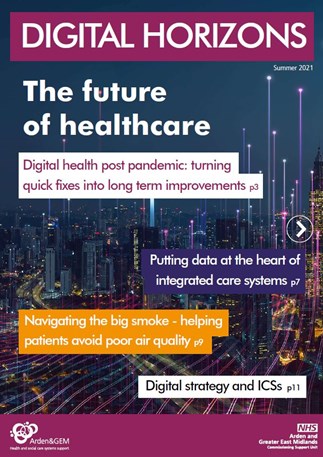 As the COVID-19 recovery continues, and healthcare leaders are able to reflect on the challenges and learning of the past year, we take a look at what this means for the rapid digital solutions implemented since March 2020 and how we continue to harness this new-found agility.
We also take a look at some of the innovative and creative applications of technology that have helped unlock opportunities. From the use of immersive technology to improve mood and reduce feelings of social isolation to the use of drone technology to deliver medical kit and connect care facilities.
Remote monitoring solutions and long-term condition management have been regular topics in previous editions of Digital Horizons and in this issue we'll be hearing from a partnership project which is adding air quality data to existing platforms for managing long-term conditions to help patients make informed decisions about their outdoor activities.
Finally, we'll be looking at the importance of digital transformation and data in ICS plans for their future shape and design, and the necessity of digital delivery when building new pathways.
You can access an interactive pdf version of Digital Horizons by clicking here.
As an NHS organisation, we are always keen to share our thinking and understand your ambitions, so whatever your digital healthcare challenges, we'd love to engage in an exploratory discussion with you. Contact us at contact.ardengem@nhs.net