Arden & GEM's Social Value Specialist, Becky Jones, will be joining the NHS Estates Conference on 28 February 2024 to discuss how to leverage the NHS estate to deliver social value.
The NHS Estates Conference, hosted by Convenzis, will take place in London and is an opportunity for healthcare leaders, facility managers, industry experts and policy makers to discuss strategies to improve the health infrastructure within the NHS. Titled 'Enhancing Functionality and Accessibility', the CPD accredited event is free for senior leaders and decision-makers across the NHS.
Becky's session, at 14:25, will focus on the integral role that estates can play in a partnership approach to social value.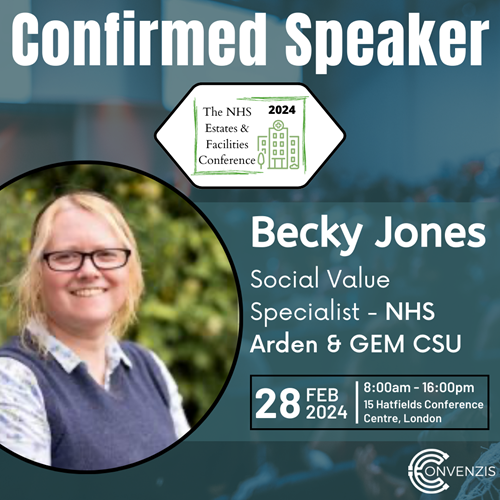 For the past decade, the Social Value Act has given public authorities a legal responsibility to contribute to the social, environmental and economic sustainability of their communities, and society as a whole. The need to adhere to recent legislative shifts in procurement, combined with the NHS's ambition to become the world's first net zero health system, has placed social value high on the list of 'must dos' for those working in and with health and care systems.
Becky' presentation will cover:
The opportunity of using the NHS estate to fully enable integration of Voluntary, Community, Faith and Social Enterprise (VCFSE) organisations
Balancing the need to bring in revenue against operating more sustainably
Carbon currency and how the estate is key to delivering this.
For more details about the event please, including how to register, please visit the Convenzis website.