The full programme for the first ever national Health and Care Analytics conference has been revealed, showcasing the best work and ideas from across the UK.
With talks, workshops, panel discussions and posters from more than 150 submitted abstracts and expert guest speakers, the packed programme runs across two days on July 11-12.
The conference is free and open to anyone in the NHS, public sector or health and care-related voluntary sector. This year's theme is 'analysts as influencers' – leading the conversation and driving innovation in their field.
Conference co-chair Ben Goldacre said: "I'm delighted to be co-chair of national Health and Care Analytics Conference. I've said before that it's vital the importance of analytics is recognised in health and care, and this conference is a huge step in making that happen."
Alongside confirmed speakers, including NHS England's Chief Data and Analytics Officer, Ming Tang, and England's Chief Scientific Officer, Professor Dame Sue Hill, the conference will feature talks, posters, workshops and drop-in rooms from a huge range of organisations, demonstrating the important work being done by analysts in health and care and examining how this drives impactful change.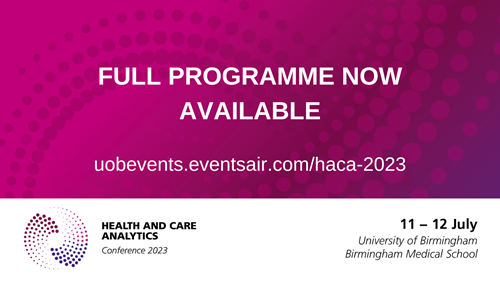 As a co-sponsor of the event, Arden & GEM will be running a series of sessions across the programme:
Tuesday 11 July
12:20 – 12:35: An early warning system supporting patients in Bedfordshire, Luton and Milton Keynes manage their diabetes – Prasanth Peddaayyavarla and Kamil Barczak, Advanced Analytics Unit
16:35 – 17:05: Utilising machine learning within a social prescriber case finding tool – Farah Adam and An Te, Advanced Analytics Unit
Wednesday 12 July
11:40 – 11:55: Predicting exacerbations of COPD: a machine learning approach – Prasanth Peddaayyavarla and Kamil Barczak, Advanced Analytics Unit
14:10 – 14:40: A look into multimorbidity: the burden of multiple co-occurring, long-term conditions in the population of England – Alex Owens, Advanced Analytics Unit
15:45 – 16:00: Evaluating the presence and magnitude of health inequalities in ICBs at PCN and place-level using advanced analytics – Sonia Hayre, Advanced Analytics Unit
15:45 – 16:15: The years of life lost to common multimorbidity combinations: an application of Markov models to the NHS Bridges to Health National Segmentation Dataset – Adrian Pratt, Advanced Analytics Unit.
Associate Director of Business Intelligence, Aaron Atkinson, will also be taking part in the poster presentation across both days, sharing Arden & GEM's new collaborative intelligence platform, Athena.
You can keep up to date with all the latest #HACA2023 by following the conference on Twitter and LinkedIn.
The conference takes place on 11-12 July, at the University of Birmingham. All in-person tickets are now taken but you can register to watch the conference via free livestream at the official website.