The Complete Care Community Programme has launched an updated prospectus that details the innovative work of 65 Primary Care Network (PCN) demonstrator sites to tackle a range of local health inequality challenges.
Complete Care Community is a national programme delivered by Healthworks and Arden & GEM which supports Primary Care Networks to identify and narrow health inequalities in their local area. The programme encourages local networks to adopt a systematic approach to addressing the wider determinants of health inequalities including using data to inform action.
The newly launched prospectus has been updated to include details of the work being completed by recently recruited phase 3 demonstrator sites. The document provides an opportunity for Primary Care Networks and Integrated Care Boards to understand both health inequality challenges and the work being completed to deliver local solutions.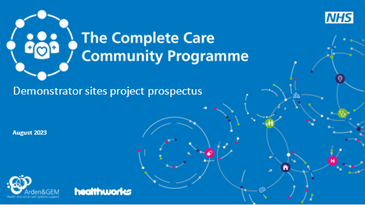 To view the prospectus and learn more about the work of our demonstrator sites please click here.
To find out more about the Complete Care Community programme please click here.