Arden & GEM's IT service has been successfully shortlisted at this year's Service Desk Institute (SDI) Awards in the 'Service Desk of the Year' category.
The Service Desk of the Year awards are for IT service and support teams. Split into 3 categories for those serving: small to medium businesses (SMBs), small to medium enterprises (SMEs) or large enterprise organisations, Arden & GEM will compete in the 'large organisation' category.
To achieve shortlisting against this prestigious award, our service desk team have demonstrated a thorough understanding of every facet of delivering excellent IT service and support. Our submission reflects how the team works collaboratively in providing a fantastic service and illustrated the vital role played in ensuring organisational objectives and visions are met. The comprehensive assessment criteria for the award includes strategy, customer experience, staff engagement, continual service improvement, performance and innovation.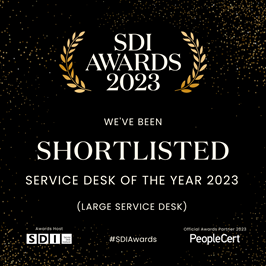 Commenting on the shortlisting announcement, Arden & GEM's Head of Service Delivery, Andrea Slater, said: "I am immensely proud that the support provided by our service desk team has been recognised by our industry's most prestigious awards. After successfully achieving 3* certification from the SDI earlier in the year, this shortlisting further demonstrates our commitment to developing both the service and our staff to ensure we deliver excellence to our internal and external customers. Competition for the award will be very strong, we look forward to the judge's final decision later in the year."
The winning organisations will be announced during an award ceremony Monday 30 October 2023.
Find out more about the awards here.