Arden & GEM is pleased to announce that our IT Service Delivery Team has successfully achieved certification from the Service Desk Institute (SDI).
This global best practice standard for service desks provides a set of clear and measurable benchmarks for IT service operations. The SDI Service Desk Certification (SDC) programme is the only industry, standard based accreditation programme designed specifically to certify service desk quality. It delivers an independent validation of service levels, as well as providing opportunities for both individuals and teams to learn new skills and understanding of what is required to build a truly excellent service desk.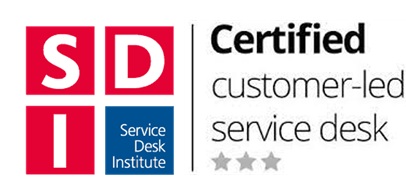 Andrea Slater, Head of IT Service Delivery said "I am immensely proud of the team that have embraced this process and worked hard to enable us to achieve this certification. This is the start of our journey and we are committed to continue the development of both the service and our staff to ensure we can deliver excellence to our customers."
To achieve certification, the maturity level and support operation of our Service Delivery Team was comprehensively audited against a range of best practice standards. 9 Concepts are examined, each with numerous criteria to be measured against and a grading given from the four maturity levels; Reactive 1*, Proactive 2*, Customer Led 3* and Business Led 4*.
Leadership 4*
With criteria such as Service Desk Influence, Leadership Skills and Driving Continual Service Improvement, the Leadership Team were proud to achieve the maximum 4* rating in this concept.

Policy & Strategy 4*
Covering Vision, Mission, Strategy and Strategic Planning and Financial Management; another 4* was awarded in this concept.
People Management 2*
Considering maturity in criteria including Role Profiles, Recruitment & Onboarding, Absence Management and Talent Management, a 2* award showed a sizable improvement on the preassessment score of 2022 and provided a wealth of advice to facilitate a move to the next maturity level by the surveillance audit in 2024.
Resources 3*
A strong performance in criteria such as Optimization and Automation, Supplier Management, Capacity, Performance & Reliability, Workforce Management, and the IT service management toolset, secured an impressive 3* rating.
Policies & Procedures 3*
Made up of 23 individual criteria in important aspects of IT governance such as Governance of Processes & Procedures, Risk Management, Interaction Quality Management, Change and Problem Management, IT Security and Continuity Management, a 3* award clearly demonstrated the resilience and governance of the IT Services function.
Managing Employee Satisfaction 3*
This concept showed a marked improvement on the pre-assessment audit – securing a 3* award in Staff Morale, Employee Feedback, Training Plans and Positive Team Culture. The Leadership Team were especially pleased with this amazing outcome and thank all the staff who participated in the anonymous surveys.
Customer Experience 3*
With the highest weighting across all the Concepts, a 3* award demonstrates a Customer Led maturity level in elements such as Customer Experience Program, Capturing Feedback, Customer Profiling, Relationship Management and Service Design.
Management Information & Performance Results 2*
This Concept required a sizable improvement from the pre-assessment score to achieve certification and staff across IT Services worked extremely hard to evidence management information across 44 individual criteria; coming close to achieving a 3* award. Some of the criteria considered included Percentage of Functional Escalations, First Contact Incident Resolution Rate, Average Request Fulfilment Time by Priority and Incident Reduction Through Problem Management.
Corporate Social Responsibility 3*
Considering important aspects of our corporate experience and impact, topics such as Diversity and Inclusion, Flexible Working Practices, Mental Health and Emotional Wellbeing and Professionalism and Ethics were measured against industry best practice.
In conclusion, SDI's experienced auditors assessed our compliance with the standard over a four day, comprehensive assessment which included interviews with customers, staff, internal colleagues and the IT Service Deliver leadership team. All evidence was scrutinised robustly and on completion it was confirmed that our Service is operating at the 3* Customer Led maturity level overall; a remarkable achievement made possible by the commitment and collaboration of the Service Delivery Team – and the wider IT Directorate.
Paul Davison, Executive Director of IT, Arden & GEM said "We are extremely pleased with this certification which acknowledges the hard work and commitment of our entire service desk team. By formally assessing the capability of our IT services we are demonstrating our commitment to delivering both excellent service and continuous improvement for our customers."
Lynne Nash, Lead Auditor from the Service Desk Institute said "It is pleasing to see that adopting the Global Best Practice Standard is driving improvements not just in service delivery, but across the IT service directorate. There is even evidence it is starting to influence practices outside of IT services. Staff benefit from a stable leadership structure committed to continual improvement as evidenced by the significant improvements achieved over the past year. The majority of staff enjoy their work, feel they can make a difference, and are respected and valued by customers and stakeholders."
Paul Rodrigues, Chairman from the Service Desk Institute said "Congratulations on achieving Certification with a customer-led maturity level. Given the ongoing challenges within the NHS, achieving significant improvements across all nine concepts is to be applauded. Very well done!"
The Service will undergo a surveillance audit in Spring 2024, where all criteria will be reassessed and it will be confirmed if the Customer Led maturity level is maintained (or improved upon). The Service Delivery Team have already started planning for this; focusing on delivering improved business value and embedding processes and improvements made as part of this challenging and rewarding certification process.