Following the serious neglect and abuse suffered by adults with learning disabilities and autism at the Winterbourne View hospital, it was clear that services across the country needed to be radically transformed to prevent any repetition of this kind of treatment.
In partnership with four Clinical Commissioning Groups (CCGS), including lead commissioner, Coventry and Rugby CCG, local authorities, providers and service users, NHS Arden & GEM CSU took an in-depth look at how services for people with learning disabilities and autism were being commissioned and delivered.
This resulted in an ambitious programme to totally transform services across Coventry, Warwickshire and Solihull. As a fast-track site for NHS England's Transforming Care Programme, the new community-based model of care is significantly improving outcomes for service-users, reducing inpatient admissions and length of stays in hospital.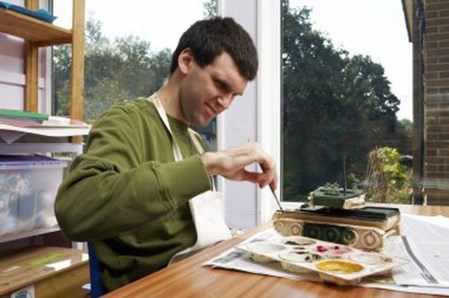 The challenge
There was an immediate priority to deliver the urgent actions set out in the Department of Health's 'Transforming Care' report, which was published in direct response to the Winterbourne View scandal. However, we identified both a need and an opportunity to take a much more in-depth look at services for people with complex learning disabilities and autism.
Across the UK, people with challenging behaviours were frequently admitted to hospital often for lengthy periods of time, far from home. Transforming services would require close collaboration with partners across health and social care to deliver sustainable changes that would improve care and support. It would also mean shifting perceptions about how to keep people with complex behaviour safe, and collaborating with service users to put them at the heart of problem solving and decision making.

Developing a solution
We kicked off the programme by designing and delivering an accelerated learning event with a range of partners and stakeholders to identify barriers to better care, opportunities to learn from best practice, and to develop a joint strategy. This included detailed workshops to help participants 'walk in the shoes' of patients and understand reasons behind unplanned hospital admissions.
There was an overwhelming commitment across organisations to work together to tackle issues such as the sharp division between health and social care, multiple assessments by a number of agencies and a reliance on inpatient beds. A shared strategy was developed which was tested with service users, carers and stakeholders before being endorsed by the local Health and Wellbeing Boards.
With agreed priorities in place for service improvement, Arden & GEM worked with Coventry and Warwickshire Partnership Trust (CWPT) as the primary provider, to help develop a new model of care. Specifically, this included understanding local requirements by focusing on a small number of individuals with highly complex needs at risk of inpatient admission.
A series of face to face engagement sessions helped to scope service changes which would result in a reduction in assessment and treatment beds through moving resources into the community. Highly visual case study timelines of individuals were used to demonstrate fluctuations in behaviour alongside hospital admissions. This included plotting key influencing factors, such as where they were living, changes to staff and health problems to give an overarching picture and help identify any significant patterns.
Through close collaboration with service users, partners and other stakeholders, a new model of care was developed which would put individuals at the heart of service delivery and ensure community-based services provide the right support at the right time, improving patient outcomes in line with the parity of esteem agenda.
Key aspects of the model are:
    'Upstream' prevention before a crisis occurs, ensuring early intervention and anticipation of additional support need
    Enhanced support through a multidisciplinary team, comprising specialist nurses, therapists, support workers, social workers and a psychiatrist
    Crisis support, when there is an imminent risk of hospital admission
    Short term hospital admission as a last resort, followed by swift review and support to ensure a safe return to the community
    Step Down support after a crisis to return to a less intensive package of care and support
The model was tested in April 2015 across Coventry and Warwickshire and now includes Solihull. Underpinning the model are components which help to maintain wellbeing, such as person-centred plans, a lead practitioner/care coordinator for each individual and behaviour support for individuals and families. Commissioning infrastructure supports the model, including quality monitoring of contracts, a shared "at risk" of admission register to help monitor individuals, access to responsive funding to increase support well before individuals reach crisis point and well-designed facilities and accommodation.
The programme has already delivered:
  A new multi-disciplinary Intensive Support Team which is successfully supporting people in the local community and preventing hospital admissions, resulting in the closure of a ward of nine beds six months ahead of schedule
       A focus on supporting people closer to home to ensure access to a wider support network, such as friends and family
       Better equipped staff to spot early warning signs and trigger points which can lead to hospital admissions, and easier access to responsive support
       A 33% reduction in inpatient beds, outperforming the national average of 6% and the NHS England target of a 10% reduction
       Positive feedback from service users
The project has had a profound impact for individuals and their families. For example, one patient had been kept in hospital due the fear of what would happen to him if he left. This had led to many years in an institution where physical restraint was the norm. Through carefully planned support which concentrates on the activities which reduce his anxiety levels, he is now living a fulfilling life in the community.
The model of care has helped to change attitudes, encouraging professionals to be brave about what is possible and focus on getting the right support in place for each individual. We are now exploring how the model can be adapted for children and young people, including those within the criminal justice system who present unique and complex challenges.




More on this service