In 2019, NHS Leeds CCG embarked on the 'Shaping our Future' programme to design a future operating model for the organisation that would enable it to achieve its ambition for the city.
Arden & GEM's multidisciplinary Healthcare Solutions team provided transformation and organisational development support to help the CCG and its system partners co-produce a new operating model.
Following an extensive programme of engagement, the new operating model – and an accompanying implementation plan – were produced and accepted, with an organisational development plan now being delivered to support the move to strategic commissioning and system integration.
The challenge
With responsibility for 870,000 citizens, NHS Leeds CCG is committed to working with a wide range of partners from across the health and care sector to achieve its ambition of establishing Leeds as a healthy and caring city for people of all ages, where people who are the poorest improve their health fastest.
In order to define a new operating model that would enable Leeds CCG to reflect the direction of travel set out in the NHS Long Term Plan and become a strategic commissioner of improved outcomes for the local population, the pioneering 'Shaping our Future' programme was initiated in 2019. To deliver the programme, the CCG needed transformation and organisational development support to understand how its responsibilities, capabilities, functions and structures would need to adapt in the medium to long term.
With existing relationships across the Leeds system, experience of working with CCGs to define operating models and a track record of 'hands on' delivery, Arden & GEM partnered with Deloitte LLP to provide the support needed.
Our approach
Starting in November 2019, project mobilisation was swiftly actioned and included meetings with key leaders and the 'Shaping our Future' programme board to agree governance processes, key deliverables and success measures.
Two initial workstreams were run concurrently. The first engaged with CCG staff to co-produce a new operating model while the second engaged with system partners to ensure clarity and alignment. By running these two processes simultaneously (over a three-month period) clarity over what should happen at a place, neighbourhood and system level could be achieved.
Designing the operating model
The operating model design process focused on engaging with CCG staff and leaders to define and confirm the following key aspects:
Vision, strategy and objectives
Culture, values and ways of working
Functions and how they will be discharged
Governance.
A series of engagement opportunities was facilitated to ensure an open, honest and inclusive process.
Interviews took place with senior CCG leaders to discuss the case for change, build a common understanding and agree the wider engagement process
Drop-in launch events were held for all 340 CCG staff members to set the scene, context and ambition for the operating model design process
An all staff briefing event, led by the CEO, was organised to explain what was meant by strategic commissioning and place-based integration and what this may mean for CCG directorates and teams
Detailed design workshops were held, initially with senior leaders and then with the wider staff group, to explore the necessary capabilities and associated skills and relationships.
These face-to-face engagements were supported by developing a collaborative working relationship with the CCG's communications team who established a dedicated intranet section and FAQs document.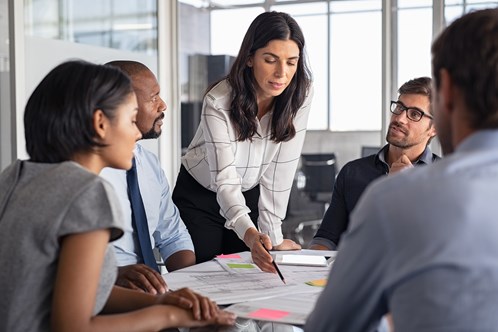 Engaging with system partners
All key system partners were involved right from the start of the process including NHS providers, the local authority, the third sector, the voluntary sector and Healthwatch. Semi-structured one-to-one interviews took place to better understand partner interests, issues and incentives. These were followed by a workshop to confirm the shared purpose, explore implications and gain consensus on next steps. Findings and themes were used to shape the operating model design and accompanying system organisational development (OD) plan.
Implementing the new operating model
The two comprehensive engagement workstreams culminated in the production of a detailed new operating model for NHS Leeds CCG which was accepted by the executive group. An implementation plan, with clear next steps, was developed to guide the CCG through the change process required to create new executive portfolios and business units.
Ongoing OD programme
A key element of the implementation plan was a six-month long OD programme to support staff in developing the capabilities, behaviours and mindsets needed to ensure a thriving organisation, including system working, matrix working and leadership development.
A leadership community of practice group was established to provide a supportive environment for implementation workstream leads in their roles as agents of transformational change. Activities have been facilitated to help the group come together as a team and think about their connection to the wider system. In addition to the bi-monthly community of practice group sessions, one-to-one coaching has also been provided to workstream leads.
The outcomes
As a result of the highly collaborative relationships developed by Arden & GEM's Healthcare Solutions team with the 'Shaping our Future' programme board, a new CCG operating model was co-produced with staff and system partners over a five-month period.
The breadth and depth of engagement opportunities ensured buy-in to a shared vision for the CCG, in its role as both strategic commissioner and system integrator.
Regular feedback sessions were held with the CCG Governing Body to ensure they were informed of progress with an opportunity to provide challenge and input.