Faced with ambitious financial targets, Solihull Clinical Commissioning Group (CCG) needed to develop their current Quality, Innovation, Productivity and Prevention (QIPP) schemes to achieve the scale of change required. The CCG commissioned our service transformation and business intelligence experts to help them find greater, and faster, savings.
Through an initial scoping and analysis process, Arden & GEM CSU identified key opportunities in addition to risks and concerns in the CCG's existing schemes. Working collaboratively we 'stress tested' current schemes, using analytics to unpick assumptions and transformation expertise to test and develop plans. Working closely with clinical and operational leaders we helped produce a robust, evidence-based QIPP action plan that would enable the CCG to deliver the necessary improvements.
The CSU continues to support the programme management while providing the analytics and insight to ensure delivery remains on track and that financial and clinical benefits are realised.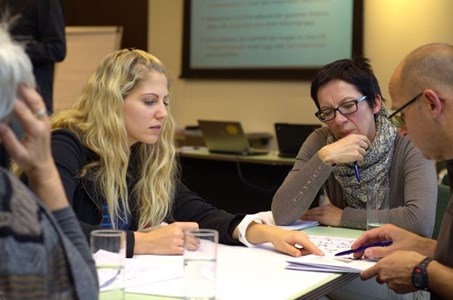 The challenge
Solihull CCG ended the 2016/17 financial year with an underlying deficit which was due, in part, to undelivered QIPP savings. With an ambitious financial plan for 2017/18 it was vital that potential savings could be quickly identified and, more importantly, realised. Improving quality of care was also critical to the CCG, with solutions needing to work for both patients and providers.

Our approach
Arden & GEM CSU provide specialist strategic service improvement support to Solihull CCG, which brings together experts in service transformation, business intelligence and analysis.
Our team was initially tasked with supporting the QIPP programme in two specific ways: by providing the data and analysis to identify relevant and realistic opportunities, and implementing a project management office (PMO) that would ensure delivery. Moving the CCG from a list of possible ideas to an action focused delivery plan with clearly identified savings.
Through our national work and analysis, we have built a wide library of successful change programmes. We use this evidence base to support our customers to make improvements, at pace, building upon the learning of others.
Our transformation specialists used this library, and their expertise, to source potential new project areas. Our business intelligence experts then undertook comparative analysis between Solihull and other CCGs to look for further opportunities and quantify the potential savings for identified areas.
This was then cross referenced with suggested best practice highlighted by healthcare journals, leading organisations such as the Kings Fund and Nuffield Trust, learnings from the Academic Health Science Networks and examples from national awards winners.
Early engagement of CCG leads was crucial to ensuring that Solihull maintained ownership of the QIPP schemes and were committed to providing the resource needed to keep progress on track. By embedding our team with the CCG's in-house resource we built relationships and trust, using regular workshops and group sessions to test and confirm our approach.
By adopting an open, transparent and collaborative approach, the Arden & GEM team was able to support the CCG to manage change with all stakeholders across their health economy. The CSU's work is continually used to support the newly created System Delivery Team, which brings together all the local stakeholders required to manage the QIPP programme on an ongoing basis.

The outcomes
The CCG now has a QIPP scheme action plan which is underpinned by robust data and analysis, fully costed and is supported by a PMO that is equipped to deliver.
By strengthening delivery plans, reducing financial risk and enabling quicker implementation, the financial impact of the QIPP schemes has increased by £1.7m.
Arden & GEM's team will continue to find new opportunities and provide the challenge and insight to ensure delivery remains on track. 
"The scale of the challenge we faced required us to take a different approach to the development of our QIPP plan and to increase the focus on delivery. We used the skills, knowledge and expertise of Arden & GEM's team to analyse and interpret both data and best practice; through this we developed evidence based projects that could deliver significant cost improvement. The CSU staff became part of our System Delivery Team, supporting the development of improved programme reporting and leading to improved QIPP delivery."
Doug Middleton, Turnaround Director, Solihull CCG
 
More on this service