Coventry and Rugby Clinical Commissioning Group (CCG) requested a service review to be completed by Arden & GEM after recognising that maternal mental health services across the city and county were inequitable, with differing pathways and levels of specialist support.
The review recommended that the pathway be redesigned and a specialist team recruited to ensure that pregnant and postnatal women had access to the best possible mental health care, in line with professional guidelines. Following the review Warwickshire North and South Warwickshire CCGs also agreed to invest in a new pathway and model of care.
Implementing the project required bringing together a large number of commissioners, providers and other stakeholders to create a virtual countywide service which reflected the views of both clinicians and patients. Women in Coventry and Warwickshire now have access to a specialist mental health team which is improving the number of referrals accessing appropriate support and receiving positive feedback from users.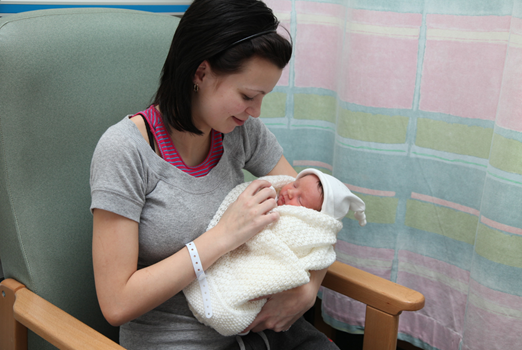 The challenge
During pregnancy, and in the year after birth, women can be affected by a range of mental health problems including anxiety, depression, trauma, loss and psychotic disorders. These are collectively called perinatal mental illnesses. Perinatal mental illness affects at least 10% of women and, if untreated, can have a devastating impact on them and their families.
The Maternal Mental Health Alliance last year estimated that the cost of perinatal mental illness is approximately £8.1 billion annually; most of this represented in long term impacts for the baby.
The onset and escalation of perinatal mental illness can often be prevented through early identification and expert management of a woman's condition, and prompt and informed choices about treatment.
Following a serious case review, Coventry and Rugby CCG requested that Arden & GEM review local maternal mental health with local providers of acute and primary care. The purpose was to identify whether the current pathway and service specification met with national recommendations and best practice. This provided the starting point for a two year project across Coventry and Warwickshire to implement a new model – bringing together commissioners, providers, service users and local authorities.

Our approach
Recognising that maternal mental health services across Coventry and Warwickshire were inequitable, with differing pathways and levels of specialist support available, Arden & GEM undertook a thorough of service provision.
Our team established a clinician-led working party, bringing together key clinicians working within existing services. This group conducted a literature review of current best practice and held consultations across the city and county. At the conclusion, a new Coventry and Warwickshire wide service and pathway was proposed. This new pathway recommended covering pre pregnancy, during pregnancy, labour and delivery, postnatal care, tertiary services, out of hours advice and support, access to assessment and treatment.
"The role of Arden & GEM was crucial in supporting clinicians to develop appropriate pathways, navigate discussions and consultations with a wide group of stakeholders, and providing a driving vision has been key."
Dr Kirstie McKenzie-McHarg, Consultant Clinical Psychologist, South Warwickshire NHS Foundation Trust

Following the review Warwickshire North and South Warwickshire CCGs also agreed to invest in a new pathway and model of care.

The outcomes
As a result of the service transformation project, a new pathway has been put in place, recruitment to the specialist team has been completed, the new service has been officially launched and we have already received national interest in the model.
Coventry and Warwickshire now has a consistent, safe, high quality service (which is compliant with NICE guidelines) with the right specialist staff in place, including experienced consultant psychiatrists.
The team now also comprises experienced consultant and clinical perinatal psychologists who can provide intervention and support to women experiencing a range of perinatal mental illness. 
Specialist perinatal Community Psychiatric Nurse (CPN) staff members are in post, providing home-based support and care to women who require this during the perinatal period.
The team is in a position to provide perinatal mental health training to GPs, health visitors, midwives and obstetricians, ensuring early identification of risk and vulnerability.
As a result we have seen an immediate impact on the number of referrals accepted. Women with perinatal mental illness are now able to promptly access perinatal mental health support when needed. Initial feedback from patients has been incredibly positive.
"I can't thank you enough for holding my hand whilst I climbed over my mountain and jumped off the other side and got the beautiful bundle of joy I have always dreamed of! We will always be grateful." 
Patient feedback

Next steps
The service has already begun delivering a bespoke training package for local professionals to ensure that everybody is working to the same pathway, receiving the same messages and that there is consistency across Coventry and Warwickshire.
Strong links are being established, and built on, with relevant services such as the maternity hospitals (in which the perinatal mental health team members spend some time each week), the health visiting team, GP practices and broader mental and physical health services.
The next stage in the project will be to redevelop health visitor pathways to ensure that all health visitors have appropriate training in identifying perinatal mental illness and in supporting women, where this fits within the scope of their roles. It will also ensure that women are referred into the perinatal mental health team in a timely manner, reducing the potentially negative impact of perinatal mental illness on children in the family.

More on this service