Arden & GEM led the co-design, development and implementation of an adult mental health liaison service across three acute hospital sites to transform the experience of patients with mental health issues presenting at A&E.
Beginning with a full analysis of the existing service, we worked with stakeholders to develop a sustainable solution built around patients' needs. An innovative mental health liaison service was introduced across three hospitals within 12 months of the beginning of the project, delivering both improvements in patient care and significant financial savings.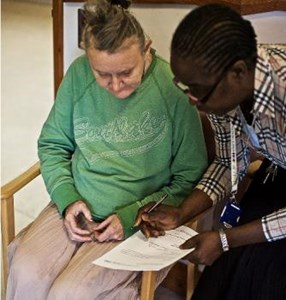 Understanding the challenge
A poor Clinical Quality Review of emergency services had highlighted a lack of responsiveness to mental health patients in A&E. A recent suicide in one A&E department had further exposed the lack of a coherent response to mental health issues and the presence of mental health issues was being cited by providers as a significant contributor to the levels of Delayed Transfers of Care (DTOC).
Arden & GEM identified that a strategic analysis was required to understand what needed to change, the interdependencies across the system and importantly, how patients experienced the service. 
We worked with consultants to undertake a 360-degree review of the pathway, covering clinicians; managers; patients; and other stakeholders, and provide an objective, independent view of the system.  The results exposed a disconnect between how managers and front line staff described the pathway from mental health and acute sector perspectives. Patients with mental health issues and their carers presenting in A&E reported that they felt their mental health issues were not taken seriously or prioritised and that they found the experience distressing.

Developing a programme
Arden & GEM created and led a facilitated design session with stakeholders, drawing on real patient experiences, to explore what good support to mental health patients in A&E would look like. Stakeholders co-produced the transformation programme against an ambitious timetable of six months for the initial implementation of the new service. Working proactively with local decision makers resulted in a joint commitment to the introduction of a consistent mental health liaison service, which could be flexed to respond to variations in demand. 
We established a multi-agency Programme Board of senior stakeholders across health and social care commissioners and providers in which the key outcomes were defined:
Skilled mental health practitioners to be in A&E departments across the locality with hours agreed locally
Standard operating procedures for the liaison service to ensure consistency and flexibility
Mental health training across all acute sites to upskill clinical staff and ensure physical and mental health presentations are treated equitably
No blame approach to problem solving when challenges occurred
Commitment to incrementally grow the service over an 18-month period in response to initial outcomes
Reduction in numbers of people with mental health issues being admitted into an acute bed through A&E
The Programme Board's shared purpose was to demonstrably improve the experience of mental health patients presenting in A&E.
Arden & GEM established and managed the Project Management Office throughout the duration of implementation, setting up and supporting the underpinning work streams. We developed a costed business case and presented it to three commissioners within eight weeks of commencement of the programme to secure staggered investment in the service over two financial years. This allowed the service to be delivered in skeleton format and scaled up on an incremental basis, in response to the service's emerging impact.
Following best practice research, we secured £100,000 in additional, non-recurrent, external development resources from the Health Innovation and Education Cluster to enable buddying with an exemplar site nationally. This enabled skills transfer, clinical shadowing and the sharing of training resources. Use of a local CQUIN (Commissioning for Quality and Innovation) was secured across the acute sites to release staff for training. Clinical champions were identified across all sites to support the implementation, embedding and site based problem solving of the emerging service.

Outcomes
The service was established across all three acute provider sites within six months. Mental health staff are now embedded in A&E departments working alongside acute colleagues which has led to greater dialogue and communication between clinical staff, and growing confidence among acute staff in dealing with common mental health problems. In line with Rapid Cycle Improvement, continuous review and improvement on each site enables the service to respond to local needs and address challenges.
We approached monitoring from several angles, focusing on:
Acute Emergency Admission (via A&E) activity and costs
Length of stay following admission
Site based admissions avoidance targets
Admissions avoidance targets were established to meet required CCG cost saving targets which equated to between five and seven admissions avoided per week at each acute provider.
Targets in year one were exceeded at all three acute sites, with financial savings ranging from £1.6million at full cost, to £165,000 and £190,000 at 30% marginal rates, for two of the sites. In addition, the average length of stay for mental health patients admitted reduced by an average of one day. Activity was tracked and reviewed to test the most effective operating hours for maximum impact, with a core 9am to 9pm Monday to Friday service and localised hours at the weekends agreed by CCG commissioners.
The service's introduction has led to a significant reduction in the number of mental health issues raised in DTOC review calls, more appropriate requests for support to move a patient into a mental health bed and more timely, appropriate mental health support to patients in an acute bed.
This service was established well ahead of NHS England announcing the requirement for psychiatric liaison to be present in all acute services by March 2016, placing the commissioners ahead of the national policy requirements.
"The service is great…. It does so much good for people that need it. It makes me feel better as a doctor in this health economy as I feel that we are doing what is right for people that need it."
Acute clinician
 
More on this service