Critical care units in Cheshire and Mersey needed a system which would enable them to capture and monitor patient care data to maintain and improve service quality.
Arden & GEM's business intelligence analysts worked in partnership with clinicians and service improvement leads to design and develop a data collection tool. The new system, which has been implemented across 13 adult critical care units, enables providers to identify service improvements within their own Trust and to benchmark themselves against peers to share knowledge and learning.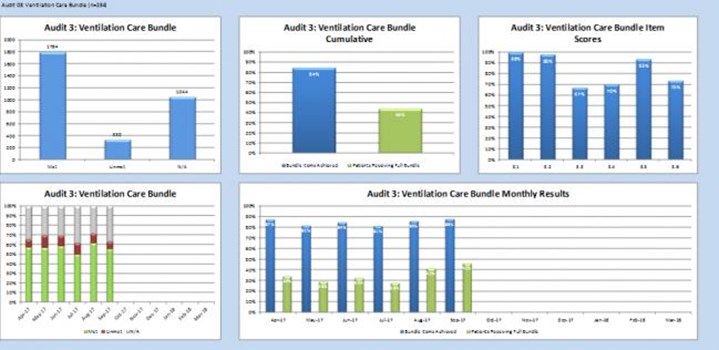 The challenge
The 'care bundle' approach – which encourages clinical teams to examine the way they deliver therapeutic interventions – is a direct way of improving the delivery of clinical care to achieve better clinical and organisational outcomes. It is based on the theory that when several evidence-based interventions are grouped together in a single protocol, it will improve patient outcome. Within critical care application of these elements together should be considered for each patient every day. 
Within the Cheshire and Mersey Critical Care Network there are 13 adult critical care units. Unit nurses needed to be able to collect quality indicator data, against care bundles, that would enable them to see and monitor the activity of their Trust in real time. A data collection system was required that would support service improvements and, ultimately, improve patient care.

Our approach
Arden & GEM's business intelligence team designed and built a data collection tool to meet the needs of nurses and doctors delivering critical care.
This was achieved by working in close collaboration with the Cheshire and Mersey Critical Care Network and local service improvement leads from each of the Trusts involved.
The CSU's analysts engaged directly with nurses to design an audit tool that would mirror how nursing staff worked, rather than being an additional reporting mechanism to complete. The solution needed to capture a range of information, which was historically collected on paper.
The system enables nurses to complete a series of forms which replicate 'care bundles'. Forms are completed for an agreed sample of patients for each monthly audit. This approach allows clinicians to see their overarching performance against the critical care standard as a whole, or to break down activity by segment (e.g. nutritional care, renal care, ventilation care etc.) and then further drill down into each care bundle element.

The outcomes
The data collection tool was implemented in April 2017 across 13 adult critical care units in Cheshire and Mersey. User feedback has been extremely positive, with the forms being described as intuitive and easy to complete.
Staff can easily see which quality indicators may need improvement and the impact of any changes made can be monitored in real time. Audits have highlighted a number of variations in practice across the network's units which have already led to new ways of working that have improved patient care:
New guidelines developed and introduced
Targeted workforce education
Improvements to referral forms
Formal risk assessments written and introduced
New checklists or more routine use of existing checklists
Better documentation of risk factors.
Local provider data then feeds a Cheshire and Mersey critical care network dashboard, which is produced on a quarterly basis. The dashboard enables Trusts to see their activity compared with the network which gives a basis for benchmarking and stimulates knowledge sharing across the network, driving further service improvements.
"The audit tool and dashboard have allowed individual units to target improvement activity and aided education in quality improvement and care delivery. It enables the Network's clinical effectiveness group (a Multi-Disciplinary Team group chaired by a consultant intensivist) to identify priorities for service improvement and to address unusual variation, as well as monitor trends over time. As the tool develops it is planned to refine the measures collected and to add indicators as best practice continues to evolve."
Sarah Clarke, Director and Lead Nurse, Cheshire and Mersey Adult Critical Care and Major Trauma Operational Delivery Networks