NHS Arden & GEM Commissioning Support Unit (Arden & GEM) was commissioned by the Leicestershire footprint to coordinate and lead the development of the region's Local Digital Roadmap (LDR).
Building on the collaborative work already under way prior to the launch of Sustainability Transformation Plans (STPs), our team has worked in partnership with local clinical commissioning groups (CCGs), local authorities, hospital trusts and other health and social care services to develop a robust and achievable roadmap designed to harness the potential benefits from new technology.
The Leicester, Leicestershire and Rutland (LLR) Local Digital Roadmap was completed on time in autumn 2016 and will guide the future digital strategy for the region to 2021.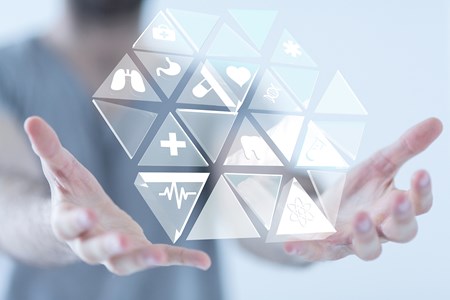 Understanding the challenge
Health system 'footprints' have been tasked with working together to develop LDRs which set out how each region will use technology to improve patient care and service efficiency. The strategies cover a mix of priorities, from maximising existing technologies to implementing new innovations and are being developed alongside STPs.
As part of our ongoing work as lead provider of Commissioning Support Services to the CCGs in Leicestershire, Arden & GEM was already heavily involved in a partnership programme called "Better Care Together", through which the health and social care organisations in Leicestershire were already working together on a number of workstreams, including technology. The launch of LDRs presented an opportunity to expand that work and adapt the activities in line with the STP footprint to deliver a coordinated plan of activity across the region.
Our challenge in leading the project was to bring together diverse organisations, each with their own IT plans, and develop a realistic strategy which would meet the needs of all organisations and support integrated working as set out in the Five Year Forward View.

Developing a programme
Following the guidance set out by NHS England, our first step was to gather a baseline position for the LLR footprint, including establishing readiness against each of the seven groups of capabilities which have been identified as crucial to paperless delivery at the point of care. This includes looking at key national capabilities: Records, assessments and plans; Transfers of care; Orders and results management; Medicines management and optimisation; Decision support; Remote care; Asset and resource optimisation.
Work was already underway to tackle some of the issues that the Local Digital Roadmaps are designed to address, under the Better Care Together programme. By mapping what was already in the pipeline against the seven NHS England capabilities, we identified the top information management and technology (IM&T) priorities and our associated capabilities. This assessment has formed the basis of a robust and realistic digital roadmap.

An achievable plan
In developing a five-year plan, the first year is about delivering what is achievable within existing funding, based on known technology. This includes increasing the number of patients actively accessing primary care services online, implementation of social care professionals' portal for assessments, and extending existing use of the SystmOne clinical system. However, recognising that new funding is coming forward to support digital developments, the plan becomes more ambitious in later years, including looking at the use of a self-care/diagnosis/patient triage app, electronic referrals from social care to health services and the introduction of shared central records.
Key to the development of the roadmap has been identifying ways in which we can bring innovation to the fore. Rather than starting from scratch, we have established links with the Academic Health Science Network (AHSN) in order to tap into emerging technologies being brought forward by various sectors including SMEs. Entrepreneurs and small businesses have an important role to play in helping the NHS keep pace with new technology and deliver the ambitious paperless NHS target. As part of our work with the AHSN, we are planning an innovation day to facilitate direct communication between commissioners and potential suppliers of innovative technology.
We have developed a robust capabilities plan which underpins the roadmap. This ensures that appropriate portfolio management is applied to the delivery of ambitious plans across the health community.

Outcomes
The Leicester, Leicestershire and Rutland footprint now has a clear five-year LDR in place designed to support wider efforts to improve patient services and enable more integrated, cost effective ways of working.
Drawing on specialist expertise from the Arden & GEM communications team, the roadmap is an appealing and accessible document and will be kept up to date as the project progresses. The timeline breaks activities down into individual years, stating clearly what the changes will mean each year for patients, staff and the general public.
As a direct result of this initiative, Arden & GEM is now providing strategic advice to a diverse group of organisations as they make decisions which could impact on digital integration. For example, we are working with the local authority on an app which would enable paramedics to register falls, replacing the current paper-based system. Our advice will ensure that any new apps have the potential to be interoperable with other local systems wherever possible.

More on this service