Coventry and Rugby Clinical Commissioning Group (CCG) identified a high spend on fragility fractures and falls. In order to gain a better understanding of the problem and enable the rapid construction of a plan for action, NHS Arden & GEM CSU designed and delivered a highly successful workshop to bring together representatives from primary, community and secondary care.
Bringing key stakeholders together in an energising and stimulating setting encouraged joint ownership of the challenge, joint problem solving, and enabled the rapid construction of a plan for action.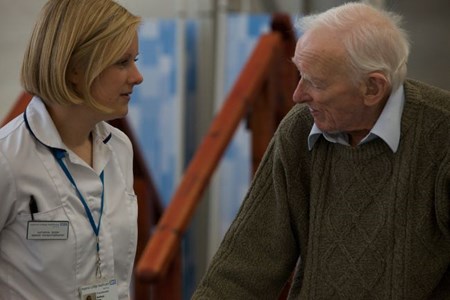 The challenge
Falls – and the devastating consequences they can have – represent a major public health challenge. Thirty percent of people aged 65 and over will fall at least once a year. For those aged 80 and over it is 50%. 
For the health service, falls are high volume and costly, with 255,000 emergency hospital admissions per year for older people in England; at an annual cost of over £2bn and more than 4 million bed days. For the individual, a fall can lead to pain, distress, loss of confidence and lost independence.
To better understand the situation within Coventry and Rugby, Arden & GEM analysed the CCG's RightCare data discovering they were an outlier and that there was the potential to:
Reduce the admissions for fractures by 172 per year saving circa £81,000
Reduce the admissions for injuries due to falls by 500 with potential savings of £1 million.
This analysis was brought together with the CSU's wider expertise to identify opportunities for change in bone health services.

Our approach
Recognising how important it is that stakeholders own the challenge and are actively involved in designing the solution, our transformation experts designed and facilitated an accelerated learning workshop on behalf of the CCG.
Our team started by spending time with local clinicians to test out an understanding of the current patient pathways. This engagement work fed into both the final design of the workshop and into the recommendations of the subsequent report.
Working closely with the local Public Health Consultant and the CCG, we were able to develop a comprehensive pre-workshop information pack for all delegates, detailing the challenges faced locally. This ensured that all delegates had the same baseline understanding of the problem and saved valuable workshop time. This was complemented by securing the attendance of RightCare Delivery Partners.
As well as designing the workshop we also provided independent facilitators to deliver and manage the event. The session was designed to encourage maximum delegate participation, and focused on group work, with specific exercises to harness the participants' knowledge and thoughts on:
What factors are contributing to the CCGs position?
What good looks like?
What can we do to improve?
Moving to the future – what actions are required?
Participants were asked to explore these questions from four different perspectives; firstly those of patients and their carers, secondly primary care, thirdly secondary care, and finally community service and partner organisations.  Feedback was recorded on specifically designed templates, which were analysed after the event.
To ensure the CCG had outputs from which to develop an action plan, and to guarantee momentum was maintained after the workshop, delegates were asked to:
Identify and commit to at least one personal 'quick win' to be completed within the following 90 days
Identify longer term actions to be led by a joint CCG and Public Health strategic group.

The outcomes
The workshop was attended by 24 healthcare professionals. The careful design and management of the event ensured active participation and captured a cross sector commitment to improve bone health and outcomes for patients who fall or who are at risk of falls.
The CSU transformation team reviewed all outputs from the workshop, created themed feedback and actions, and produced a report of findings. The report included recommendations and a suggested action plan for the CCG which was also informed by national evidence and best practice.
The report recommendations included:
Greater emphasis on prevention within primary and secondary care, with a standardised pathway from fracture clinic
Improvements in identifying at risk patients for targeted prevention
Standardised, evidence based intervention
Ways to share local good practice
Improvements to how services interface and communicate throughout the pathway, to reduce variation and duplication
Workforce planning and development
A resourced redesign programme
Improvements to how outcomes are captured.
The workshop itself provided the opportunity to capture the knowledge of stakeholders and to harness the enthusiasm generated to make practical, actionable changes.
The outputs from the workshop provided the CCG with an outline action plan on which to build a strategic approach to falls prevention and a bone health improvement journey in their locality. This approach has now been adopted as a key workstream across the STP.

More on this service