When the Advancing Quality Alliance (AQuA) needed a new clinical measures data collection system to support its quality improvement programmes, Arden & GEM was chosen to deliver the project via a competitive procurement on the Lead Provider Framework.
Arden & GEM's Data Management team worked closely with the client to agree a detailed specification, with the new system developed, tested and implemented in just three months. The new data collection and reporting tool has now been live for 12 months, in over 30 sites across 15 providers, and is playing a key role in improving quality standards in inpatient care.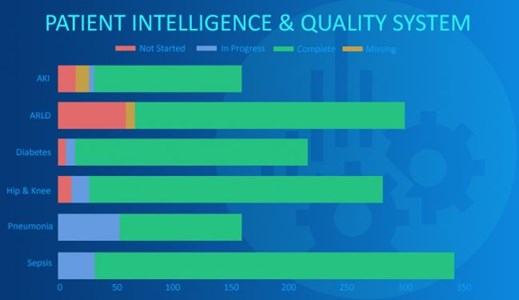 The challenge
AQuA was established in 2010 to improve health and care quality in the North West. AQuA supports 70 long term member organisations to build improvement capability at all levels of their workforce, to develop and implement quality strategies and to address quality priorities.
AQuA runs a series of programmes to support improvement in the quality of patient care across a range of clinical focus areas including sepsis care, hip fracture and COPD. A quality framework is developed for each clinical focus area, incorporating clinical engagement, national guidelines and best practice standards. To support these programmes, AQuA required a new clinical measures data collection system to capture, process and report on measures related to the quality framework.
It was crucial that, while developing a new system with new functionality, Arden & GEM continued to maintain current service levels to AQuA's programmes.

Our approach
To meet the short system development timescales – three months to specify, develop, test and implement a new system – a combination of Agile and Prince project management methodologies was used.
A dedicated system development project team was mobilised, consisting of the following workstreams:
Discovery and design
Application development
Data management
Implementation and support
Information Governance
Reporting.
Each workstream team was given the autonomy to lead their particular piece of work, with protected time to prioritise project delivery.
Capturing requirements
Initial engagement took place between AQuA and the CSU's Data Management service to agree a detailed system specification. The application development team was able to use the agreed system specification to plan and design an appropriate solution.
Simultaneous business analysis was carried out to ensure requirements could be captured. This was co-ordinated directly with subject matter experts from within AQuA and its wider stakeholders. 
Process improvement
During the development, several flaws in the existing processes were discovered. Arden & GEM was able to work flexibly in response to challenges, and the additional unplanned work generated, to fix these flaws.
This has improved the data underpinning the system making the customer reports, and ultimately any interventions to patient care, more appropriate.
The Information Governance workstream also reviewed the various data flows and supported the development of new data sharing and data processing agreements to ensure all data flows have appropriate legal cover.
Stakeholder engagement
Developing a productive working relationship with all stakeholders and maintaining ongoing communication was crucial to the project's success. Weekly meetings took place between the CSU's development team and AQuA to ensure stakeholders were able to review progress and development was prioritised to meet the needs of users.
This approach was particularly helpful in prioritising new system functionality to meet the evolving needs of users while ensuring a working system was delivered within the timescales. Some new functionality was introduced after the initial deployment to ensure a timely rollout and minimise disruption. Throughout development of the new system, emerging issues were dealt with proactively and effectively, and used to inform the ongoing work.
Through extensive engagement with the client, the CSU has been better able to understand AQuA's ongoing requirements, resulting in delivery teams being redesigned – and individual roles and responsibilities within those teams being adjusted – to better meet their needs.

The outcomes
The new data collection and reporting tool has now been live for 12 months, in over 30 sites across 15 providers, and has collected over 150,000 clinical measures for 21,000 admissions. A nine year data history was migrated to the new system and a bespoke reporting solution has been developed to support quality standards in inpatient care.
System rollout took place quickly and effectively, using a 'train the trainer' approach, with the CSU's experts training the AQuA team, who then trained Trust staff inputting into the system.
Arden & GEM was already providing data management services to AQuA as part of the CSU's North West Data Services for Commissioning Regional Office (DSCRO). The DSCRO provides the secure infrastructure and analytical expertise required for healthcare data processing.
Part of the data management team's responsibilities was to ensure the new online data collection tool integrated seamlessly with the DSCRO, enabling a streamlined end to end service. This has allowed much of the back-end data processing to be redesigned, improving system flexibility, allowing technical developments to be more easily implemented, and futureproofing the solution.
Arden & GEM and AQuA have an ongoing dialogue about the potential for using the tool, and the supporting data management processes, for further new functionality, such as the inclusion of sepsis NEWS, or expanding to other geographical areas. By being able to quickly and accurately identify and support outliers, AQuA can continue to support providers to improve their processes and improve patient care.
"We were able to work in partnership with Arden & GEM to deliver a comprehensive data collection and reporting system on specific disease areas. The CSU utilised feedback from users in the further development and enhancement of the solution, especially in regards to tailoring and improving the reporting functionality.
Arden & GEM has delivered an attractive, streamlined interface that guides users through the data entry process intuitively and a functional reporting suite that supports both structured reports and line level extracts to meet a broad range of requirements. Collaborative working has ensured that the system was developed, tested and launched in a timely manner, transitioning from the existing system with minimal disruption to our users."
Nancy Prospero, Principal Business Intelligence Analyst at AQuA
More on this service