South Warwickshire wanted to improve hospital discharge and outcomes for older people who are unable to return home unsupported. Working with the CCG, providers and local authority, NHS Arden & GEM Commissioning Support Unit (CSU) planned, managed and implemented a new integrated model of care, where patients are treated and assessed in a care home setting, instead of an acute hospital.
Having demonstrated the potential for real system change and improved outcomes for patients, the innovative Discharge to Access (D2A) service is now well established as part of the wider model for frailty and integrated care in Warwickshire.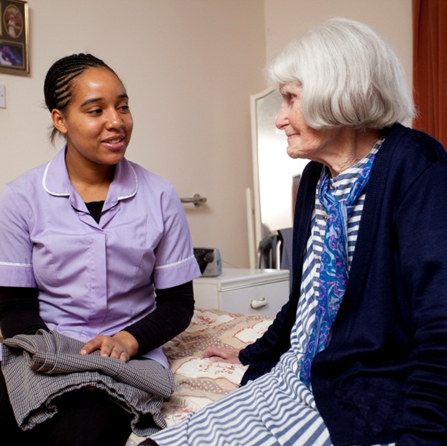 The challenge
At any one time, there are a number of older people in an acute bed, whose medical episode is complete but are unable to manage without support at home or in a residential home. Rather than wait in hospital for further assessment of their long term care needs, the challenge was to move people into a more appropriate setting – improving hospital flow and maximising people's capacity for independent living – so that more people could return home and fewer people would be permanently admitted to care.

Our approach
Designing a successful solution required a collaborative problem solving approach, involving partners across health and social care. Working closely with Warwickshire County Council, the local hospital, AGE UK and care home providers, we looked at how we could deliver a fully integrated and streamlined service, which would both speed up hospital discharge times and improve outcomes for older people. Led by an experienced programme manager, the CSU worked closely with the CCG to agree objectives and expectations, with regular meetings to keep the project on track.
All partners were clear that no decisions about long term needs should be made in an acute setting. In order to minimise hospital stay and maximise independence, the following four project objectives were agreed:
To support timely discharge from hospital
To maintain independence where possible
To reduce the level of long term care packages
To ensure a net neutral impact on social care spend.
"Drawing on the full range of expertise within our integrated team, from communications to procurement, meant that we were able to provide an holistic solution to our client's challenge and deliver a joined up and streamlined service."
Wendy Lane, Director of Consultancy Services, NHS Arden & GEM CSU
Under the initial pilot, set up in 2012, older patients with complex care needs were discharged to one of 30 earmarked nursing home placements within South Warwickshire.  With a stay of up to six weeks, patients received specialist treatment and support, with the aim of enabling them to return home or move to a more suitable care setting. This approach gave patients and their families more time to make an informed decision about their future while ensuring that hospital beds were used optimally.

The outcomes
Once the initiative had been in place for a 12 month period, significant impact could be shown in terms of patient experience and outcomes.
By commissioning care home capacity to move patients out of an acute setting, patients spend an average of 22 days fewer in acute care which delivers significant savings in excess bed day costs. Alongside this has been a reduction in the proportion of patients needing ongoing continuing healthcare (CHC) assessments of 50%. A 24% reduction in mortality in older people admitted to hospital, gave assurance that efficiency gains had not been achieved at the expense of quality of care.
Patients have also been positive about the reduction in ward moves and the time allowed for transition while staff working in the model describe the experience as empowering.

Next steps
The model has since been extended to include Warwickshire North CCG and George Eliot Hospital NHS Trust and workshops have been developed for NHS Dudley CCG to support them to initiate their own model.
There has been both local and national interest in the service from a number of CCGs, local authorities and providers with learnings from the pilot shared in the following ways:
The scheme has been recognised as an example of good practice in the 'Working in partnership to deliver health and social care integration' report co-written by The College of Social Work and the Royal College of General Practitioners.
A webinar has been run for Monitor as part of the urgent and emergency care series.
The team took part in an expert panel, run by HSJ, to share learnings from the project and look at ways to make a real contribution to change within integrated care.
The team has run seminars for other health economies to support the transfer of learning and help them to develop their own thinking.
A presentation was delivered at the Emergency Care Intensive Support Team (ECIST) conference.
NHS and social care colleagues from across the country have been signposted to the D2A team as an example of multi-agency collaboration by ECIST.
"This project demonstrates the value of genuine partnership working. Arden & GEM CSU, Warwickshire County Council and South Warwickshire CCG worked together to establish an effective programme which capitalised on the skills of the different organisations and put in place strong leadership and governance arrangements to enable clear and effective decision-making."
Jenny Wood, Head of Social Care and Support, Warwickshire County Council
 
More on this service