In March 2015 NHS England sought procurement support across its portfolio of directly commissioned services, which includes a range of services from, Primary Care and public health programmes to the provision of health services for prison populations and armed forces. In addition, the support was required to cover specialised commissioning procurement requirements.
NHS Arden & GEM Commissioning Support Unit (Arden & GEM) immediately identified this as an opportunity to work with partners to deliver consistent, high quality services throughout England, drawing on the best expertise from colleagues around the country. The contract was awarded to Arden & GEM under a Lead Provider model and a partnership approach made up of three other Commissioning Support Unit (CSU) procurement delivery partners, including: South, Central and West CSU (SCWCSU), North of England CSU (NECSU) and North East London CSU (NELCSU).


Understanding the challenge
With the objective of creating a safe and sustainable procurement service to support all direct commissioning contracts, Arden & GEM worked with partners to develop a single operating model for all services procured through this contract. This model requires equal participation across the partners in design, development and delivery against a set of key performance indicators. Each CSU has put aside a potentially competitive environment to work alongside each other to deliver the best service for NHS England.
The main aims of the service are to use procurement to:
    Support the reduction of inequalities and access to services and improve the overall delivery of health care to patients
    Add value to every pound spent on clinical services
    Reduce the cost of delivering clinical procurements through greater collaboration
    Develop and standardise systems, processes and procurement documents
    Build a learning environment that develops and nurtures talent  
    Support commissioners to meet the commitments made in the Five Year Forward View

Developing a solution
We have established a 'single front door' operating model with the structure that makes it easier for the customer to access services and maximises the expertise and resources available. Working in a truly "one team" fashion, the client receives the same service whether it is delivered by Arden & GEM, NECS, SCWCS, NEL or one of our other partners.
This has been achieved through:
    Agreement and implementation of a governance structure
    Confirmation of our proposed operating model
    Development and agreement of service descriptions and SLAs for all parties
    Development of prioritised national and regional procurement work plans
    Effective management of the transition of services to Arden & GEM and partner CSUs

Outcomes
Engagement with regional commissioners has enabled a single procurement pipeline that identifies all the current and future NHS England clinical procurement needs for the next two years. In developing this pipeline, we have worked together to identify collaborative opportunities as well as prospects for potential innovative interventions.
This collaboration has enabled us to identify contracts at both regional and national level which could be aggregated into fewer procurement projects to achieve better economies of scale.
For example, rather than procuring a series of individual GP contracts, we identified where these could be procured as 'multi-lots'. This resulted in less procurement, delivering significant benefits in procurement cost avoidance. To date this approach has saved £870,000 in procurement costs across 229 projects covering over 475 individual contracts, which can be invested in further procurements.  In the first year of operation the team has identified full year cash releasing savings of circa £13.5 million for reinvestment in patient care.
Across the partners, we have maximised the use of our total resource by ensuring that any under capacity in regional teams could be filled by procurement resources from different regions. This has contributed to a 5-6% efficiency factor, created from the learnings from one project to another, effectively meaning that the customer will gain 5% more work for the same resources in the second year of the contract.
The use of Electronic Project Management Office (EPMO) systems across the partnership, including e-tendering and award systems, has seen a reduction of 25% in the time taken to evaluate a tender, freeing up even more resource and reducing the cost of procurement.
The average cost of a procurement project in 2014/2015 was £28,668 in July 2015 and is now running at an average of £23,840, demonstrating the positive impact of joint working and collaboration in procurements.
"Arden & GEM has designed, built and run for us a national governance framework which works across our four regions but is flexible enough to allow localised decision making. The excellent relationship and account management model used has meant we have been able to continually develop and improve the services helping us drive efficiencies and streamline services."
Andy Leary, Director of Finance, National Specialised Commissioning, NHS England, SRO for Direct Commissioning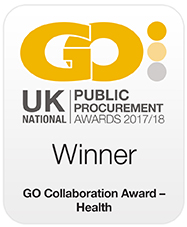 More on this service