I am a gay man…five words, that it would seem, on the surface, are simple enough to say, but there was a time when I was terrified to even mention the "G" word. Terrified that people would know I was gay. Scared that it would lead to losing family and friends. Afraid that I would be shunned by the people that I work with.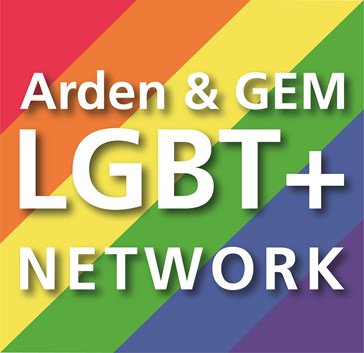 And it wasn't as if homosexuality was illegal. Which it hadn't been since 1967, a few years before I was born. I heard so many stories about hate crimes, men being ostracised from those that they were close to, people having to leave their jobs. For all the reasons that meant I should come out, there were a million more that meant I would keep this hidden. That sense of fear and the need to keep the ultimate confidentiality stayed with me for a long time.
I knew I was attracted to men at an early age, but I assumed everyone thought that way. At school I learnt quickly that this was not the case. I reacted by being hyper-masculine. I played rugby and basketball and was on the athletics team.
Every June is celebrated as LGBT+ Pride month and I was asked to contribute a blog post for the LGBT+ Network on the theme of visibility. As I was growing up there was a visible lack of gay role models, and I had no gay friends. Public figures that were gay, might be gay, or just didn't conform to a norm, from a sexuality perspective, were ridiculed. When people did come out, the headlines were screamed from the front pages of the tabloids and it was never in a positive or encouraging way. ​​​​​​​
When I look back, I'm saddened by the amount of energy that I expended on trying to make sure that my secret stayed hidden. Eventually, I grew tired of being dishonest and after much personal anguish I made the decision that I was going to come out. It's a cliché, but I came to the realisation that if I wasn't going to be accepted by people for who I was then they probably weren't worth being with.
Every coming out journey is different, and I must admit mine was a lot smoother than I had spent all that time imagining. I started with family and then to my friends. That first admission, to my sister, was the hardest, she laughed! She thought I was joking, my years of subterfuge had clearly worked. But it was a journey full of memorable milestones: my dad hugging me and telling me nothing would change the fact I would always be his son, that first Christmas card addressed to you and your partner, and of course, my first Pride event.
I'm writing this because even though we know LGBT+ equality has come so far; I think Pride is still important and needs to keep that visibility. For me it is absolutely vital to give that beacon of hope to anyone who worries that their sexuality will lead to a loss of their friends, will stop them keeping their relationships or holding on to their jobs. Pride tells us that there are so many, many, many of us who had those same fears. We were once in your position, we made it and you can too.
My name is Dan. I am a gay man. And I am proud.
Dan is an employee of Arden & GEM CSU and Chair of the Arden & GEM Equalities Group.
To learn more about our Equality and Diversity service please email contact.ardengem@nhs.net