With statutory duties now requiring Integrated Care Boards (ICBs) to undertake annually updated five-year health service planning, Integrated Care System Providers have a unique opportunity to align and coordinate planning and delivery of services, workforce and finance in order to better meet the needs of their population.
To support NHS colleagues in this endeavour, Arden & GEM is creating a new service that aims to develop a centre of expertise and support in integrated planning. The Integrated Resource Management Network will enable connected resource planning from operations to board through a rapid build and adoption of tried and tested planning models and technology, used in the NHS and in other sectors.

Our ambition is to support and enable our partners to deliver integrated resource management that can effectively meet their local challenges. These are complex and diverse, but all involve understanding the changes needed in capacity, facilities, workforce, finance, and supply chain. Planning models will be built for professional leads, for services and pathways, for population groups, across single organisations through to a collaboration across several entities and geographies.
We are seeking to develop models and support the collaborative governance in operational planning, financial planning, supplies, workforce and service planning. This will result in better control and decision making, productivity and quality assurance, demonstrating value delivery for the population through a single connected platform.
Our Integrated Planning solutions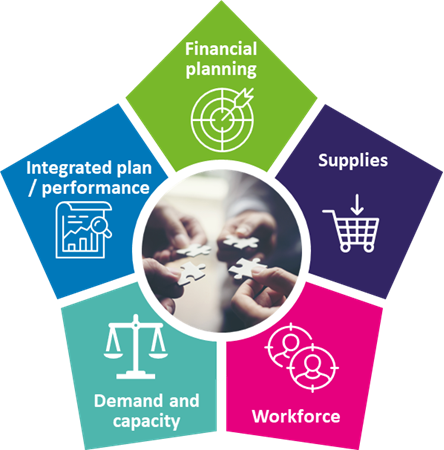 Why join the Integrated Resource Management Network?

Individual organisations often develop solutions to healthcare problems that have transferrable elements, easily adapted for other contexts. By joining this network, not only is there the opportunity to build and develop models for your organisation, but also to share this best practice with others and access multiple working models that can be adopted and adapted quickly to gain further benefits.
All network members will have a seat on the Design Authority Board. This is the body that approves the research, development and prioritisation of models in order to provide maximum impact. This leadership group will be able to build a critical mass of connected models that enable genuine collaboration for improving value across the NHS.
Those joining will have a flexible model of membership that suits individual level of need. An annual subscription-based model over a three-year term offers low, medium or high usage - dependent on the scale of models to be adopted and the number of staff who would actively use models. Network membership will also deliver support from the core network team to:
Build the case for change and quantify the significant benefits which can be delivered through integrated planning
Draft any business cases required for your internal approvals
Undertake the commercial process required to secure your membership within your SFIs
Undertake the training and advice needed to support your planners through the early stages, together with ongoing help and technical support
Build the required models for your organisation depending on the subscription, this may be one to ten models per year, with adoption of others.
Communities of professional practice will also be available for members to join – to learn from others and select models for adoption from other partners. The groups will also share common challenges and problems, where a planning solution will bring clarity and resolution, to drive the prioritisation process for the design authority board on future investment, research and development.


We would welcome the opportunity to discuss how the Integrated Resource Management Network could best support your organisation to increase health and wellbeing, improve the quality of healthcare and deliver a sustainable use of NHS resources.
Please contact alison.tonge1@nhs.net for a conversation on how we can help.