NHS Executive Search has launched a Diversity Advisory Board charged with finding innovative ways to broaden the spectrum of candidates moving into leadership and senior positions.
The inaugural meeting of the board, which took place on 7 September 2021, brought together senior NHS professionals from organisations across the country. With representation from both provider and commissioner organisations, the key themes emerging from this initial meeting are demonstrated in the infographic below.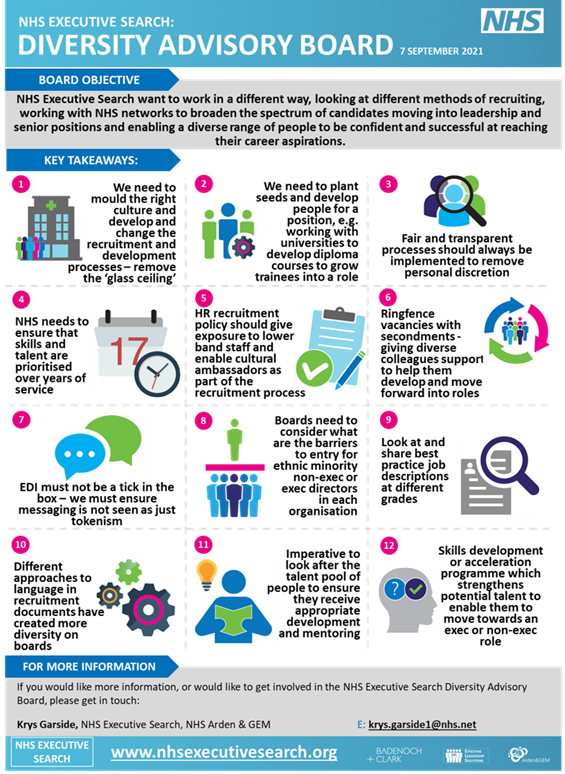 The demands of delivering sustainable and integrated healthcare has made search and recruitment of high-calibre individuals fiercely competitive. The Effective Leadership Solutions team within Arden & GEM created NHS Executive Search in response to demand from across the healthcare system for a compelling solution to the ongoing NHS senior talent challenge. Part of that solution is an intelligence driven approach to recruitment which effectively targets applicant diversity.
Martin Charters, Healthcare Solutions Director said:
"The creation of the new Diversity Advisory Board underlines our commitment for NHS Executive Search to work in a different way, with different methods of recruiting, to enable a diverse range of people to be confident and successful in reaching their career aspirations."
Anyone who would like to know more about the Diversity Advisory Board should email Krys Garside.
You can find out more about NHS Executive Search here.