Arden & GEM's Data and Systems team will be presenting at the NHS Data and Information Virtual Conference, organised by Convenzis, to share the development and implementation of the COVID-19 Patient Notification System.
The NHS Data and Information Virtual Conference: Utilising the NHS's biggest asset will take place on Wednesday 17 March, providing a platform for data professionals to listen, learn and engage with the healthcare sector's leading experts, with a focus on best practice and overcoming data challenges.
Arden & GEM's Chief Data Officer, David O'Callaghan will be sharing how Arden & GEM brought together its data, development and reporting expertise to build the COVID-19 patient notification system (CPNS) in just five days.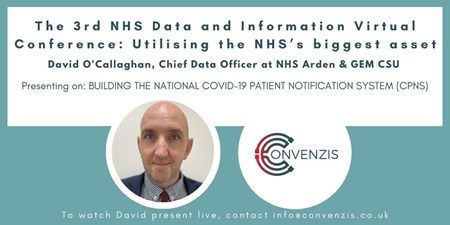 As part of the early response to the COVID-19 pandemic, organisations needed to rapidly understand the spread of the disease so that they could make informed plans and decisions. A crucial piece of information was the number of COVID-19 related deaths taking place in hospitals. NHS England and NHS Improvement needed a timely and accurate system to provide a definitive record of patient deaths.
The conference session will focus on how Arden & GEM utilised rapid discovery sessions, agile project methodology and an iterative development process to deliver the CPNS. Learn how the system now provides vital information in a simple and standardised format to underpin national death analysis and support organisations in making informed decisions.
You can find out more about the event, including how to register here.