To help tackle the spike in demand for NHS services during the winter, NHS Arden & GEM Commissioning Support Unit (CSU) was commissioned to run a seasonal campaign to help people stay well.
In partnership with 12 clinical commissioning groups (CCGs), the campaign educated target audiences about how to prevent illness by taking action at the right time, as well as how to access health services appropriately.
Now in its second year, Arden & GEM's campaign ties in with NHS England's national 'Stay Well' promotional activity, using a tailored approach to increase the impact at a local level. From fun animations and videos to a healthy eating recipe book and outreach sessions, the 2016/17 campaign carefully targeted those most at risk, using creative engagement techniques and celebrity endorsements to help people stay well over winter.
The results show high levels of engagement and increased confidence among outreach participants in choosing the appropriate health service. Furthermore, during the campaign we have seen an increase in flu vaccination uptake in vulnerable groups and steady growth in the use of the NHS 111 service.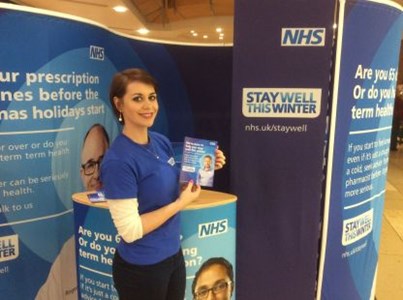 The challenge
Demand on health services reaches its peak in the winter months. The pressure is felt most sharply on emergency services and hospital admissions. In contrast to the cost of a flu vaccine, which is only a few pounds, an admission to hospital from complications resulting from flu will cost thousands of pounds, placing significant strain on resources.
Faced with a national decline in uptake of the flu vaccine and confusion among patients about which health service to access for different conditions, we recognised the campaign would need to focus on educating the public about prevention and on accessing the right health service at the right time. It would also require a focus on those most at risk and specific engagement with groups who face particular challenges accessing health services.

Developing a solution
The main aims of the 2016/17 campaign were to help manage demand in services and improve take up of the flu vaccine among the over 65s and pregnant women.
This required a targeted and coordinated approach, working closely with 12 CCGs, local authorities, pharmacies, trusts, and community and voluntary organisations, to help reach target groups and spread the campaign messages.
Our strategy was to go beyond traditional awareness raising and top down messaging, by collaborating with partners, families, celebrities and local ambassadors to share their own experiences and advice. We teamed up with local running clubs and West Bromwich Albion and Northampton Town football clubs – where coaches and players shared their thoughts on the importance of getting the flu jab in order to stay match fit. Professional boxer Matt Windle, who has asthma, featured in 'Fight the flu' videos giving top tips for staying well over winter.
Plus national celebrity, Ella Mills, (Deliciously Ella) provided recipes for a Stay Well 'Winter Warmers' recipe book.
Another key aspect of our approach was conducting outreach sessions and events to engage with people directly. We targeted seldom heard groups, working with Age UK, as well as deaf, migrant and Afro-Caribbean communities. We organised events in shopping centres and major supermarkets as well as a campaign bus tour around key locations to educate people about how to access appropriate health services.
Other aspects of the campaign included:
Media relations: Tailored media releases, reflecting both the national Stay Well messaging around flu, 111 and urgent care, and messages from sporting personalities.  
Facebook and twitter: Social media engagement was key throughout the campaign. As well as generic and localised campaign posts, Facebook promotions were targeted by demography, location and interest. This was to ensure the most relevant information reached the right audiences at the right time. We also used severe weather alerts to help communicate the importance of stocking up on medicines, taking care in icy conditions and checking on vulnerable friends and neighbours.
Recipe book: The 'Winter Warmers' recipe book was distributed as part of the engagement activity.  As well as recipes from Deliciously Ella, the book was packed with helpful advice and information about staying well.
Video: Video was a key element of the campaign, including vox pops during public engagement; cookery classes with our Stay Well recipes; feedback from seldom heard groups; and advice from sports personalities on keeping healthy through the winter.
Animation: We developed 24different 'Healthy Elfy' animations on each day leading up to Christmas, from advice about getting the flu vaccine, to keeping warm, or tackling loneliness. They were also supported by a 'Dee's A&E Fail Tale' animation on the website around the appropriate use of A&E.
Website and resources: Dedicated Stay Well pages were created for each of the CCG websites, including hosting all information and resources in one place. E-campaign packs were also developed, including a poster, flu FAQs and mythbuster sheet, and were distributed to local health, care and education settings.

Outcomes
The 2016/17 campaign has resulted in extremely high levels of engagement and improved knowledge about health services. Through the outreach sessions and events, we had direct face to face interaction with more than 1,000 people. Following the outreach sessions, more than 90% of participants felt confident about which service to access for different illnesses, and how to access that service.
CCGs have seen encouraging results in terms of take up of the flu vaccine among vulnerable groups. During the campaign period, there was an increase in flu vaccination uptake for the over 65s and pregnant women, reversing a downward trend for three years for nine out of 12 CCGs involved in the campaign. Plus, the use of the NHS 111 service has continued to grow steadily.
During the campaign, 118 media releases were issued with a reach of 1,333,406. Social media activity resulted in over 1.5 million twitter impressions and a reach of over 500,000 people on Facebook. More than 10,500 people engaged with our posts on Facebook, by liking, sharing or commenting.
The learning from this year's campaign is being built in to the 2017/18 approach, including further tackling language barriers and making the most of other channels such as text messaging and GP websites. 

More on this service